'This ain't no podcast. This ain't no Zoom call. This is real-life rock n' roll, baby. We're here for the freaks who come out on Mondays.'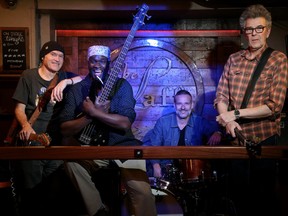 Reviews and recommendations are unbiased and products are independently selected. Postmedia may earn an affiliate commission from purchases made through links on this page.
Article content
It's a chilly Monday night in the ByWard Market and things are quiet. Many of the bars and restaurants in the downtown core are closed on slow nights like this, and there are plenty of empty parking spots. 
Article content
But inside the city's oldest tavern, the Chateau Lafayette, the action is heating up. A few dozen people on the sports side of the bar are watching a game, while the music side features a full band shoehorned on the tiny stage, cranking out some lively tunes for a clutch of music fans who aren't shy about leaving their quarts on the table and getting up to dance. 
Article content
"This ain't no podcast. This ain't no Zoom call," singer-frontman Dave Bignell is declaring, warming to a rant as the band locks into a groove behind him. "This is real-life rock n' roll, baby. We're here for the freaks who come out on Mondays."
It's another Five-Star Monday at the Laff, and Bignell, the veteran Ottawa musician/producer/sound guy, is in charge, leading a band that's essentially a supergroup of the Ottawa scene, consisting of master guitarist Fred Guignion, pro drummer Peter Von Althen (last seen as part of Kathleen Edwards' touring band) and funky bassist Nedley Pitt. 
Article content
Their Monday residency has been running since June, when the bar decided to fill the only day of the week left that didn't have live music. They invited Bignell to use the stage for whatever he desired so he approached some musician pals and decided to have some fun with it. Admission is free, though contributions to the tip jar are welcome. 
"They all agreed to it, which was a big plus because they're a great band and it meant we could do any (music) we wanted," Bignell said in an interview. "I probably couldn't get them on weekends; they're all busy. So that was one of the good things about Mondays. 
"We always say that we should get together and jam, but unless you carve out the time, it doesn't really happen," he added. "This is a great way of carving out the time. Some weeks it's really dead and some weeks it's completely packed." 
Article content
Years ago, Monday nights in the Market used to belong to Zaphod Beeblebrox, the legendary, now-defunct York Street bar owned and operated by Eugene Haslam. He presented up-and-coming bands for free at Showcase Mondays, cultivating an audience that responded to the mantra, "Heard before the herd." 
Today, as the only Monday-night live-music offering in the Market, Bignell and his band are building a self-sustaining audience of regulars, augmented by out-of-town folks from nearby hotels (who are often directed to the Laff by nose-to-the-ground concierges). Recent outings saw a cross-section of people checking out the band, from blue-collar HVAC workers in town for a conference to off-duty dancers from the gentlemen's club across the street to Indigenous leaders from the Assembly of First Nations.
Article content
In a year when bars across the region are struggling to regain their clientele after the disruption of the pandemic, Mondays have become a surprisingly popular night to see world-class live music in Ottawa-Gatineau. In addition to the Laff's Five Star feature, regular gigs take place at Irene's Pub on Bank Street, the Gatineau watering hole Minotaure and the almost-one-year-old Bank Street venue, Red Bird Live, where Bluegrass Mondays has found its new home.
In fact, bluegrass has a decades-long history of being presented in Ottawa on Mondays, dating back to the early years of Pat Moore's 40-plus-year music career. She's the singer-songwriter-instrumentalist, who, with her daughter, musician Kate Greenland, launched this round of Bluegrass Mondays nine years ago, initially at the Gladstone Avenue club formerly known as Pressed. 
Article content
"When we first started, we did Mondays because there was less competition. On weekends people are either at their cottage or away or at another show," Moore said in an interview, noting their 7:30 p.m. start time and $10 admission. "We start early so people can still get home and to bed in time to be bright-eyed and bushy-tailed for whatever they have to do the following morning." 
They moved to Red Bird in March 2022, impressed by the nicely renovated space, with unobstructed sight lines, comfy seats and impeccable sound quality. While the core bluegrass audience tends to represent an older demographic, this year has seen a shift, Moore said. 
"We still have the older audience but we're getting a younger audience, too, and I'm surprised and tickled at the turnover," she said, giving credit to groups that feature younger performers, such as Gladsome Gentlemen, Monroe Sisters and the Dusty Drifters, who all sold out their Bluegrass Monday appearances this year. 
Article content
A few blocks north on Bank Street, Mondays at Irene's Pub are a laid back affair, with the band set up in the corner and the pool tables available for games. The lineup alternates, featuring the Booth Street Blues Band on the second Monday of the month, the Beeched Wailers' jazz jam on the third Monday and the country-swing stalwarts, The Telegrams, on the fourth Monday. There's never a cover charge (tip jar instead) and the audience includes musicians and bar staff enjoying a night off.
Not to be overlooked at the start of the week is the Monday-night jazz residency at Minotaure, another no-cover gig that features some of the area's most accomplished musicians and attracts a crowd that varies from fresh-faced students to hardcore jazz aficionados. 
Article content
While you can find karaoke and open-mic stages almost every other night of the week, we're in a moment when Mondays offer a golden opportunity for live-music lovers who are starved for a fix but on a tight budget. Time it right and you can even see two or three great shows in one outing.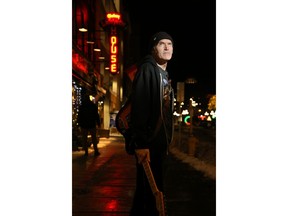 As for the musicians, they're thrilled to be in front of a real audience, no matter what day it is, and the creative sparks are firing. After a long stretch of infrequent gigs – just three in two years due to the pandemic – Bignell was having second thoughts about his music career. The weekly gig has helped revive his enthusiasm, along with his songwriting chops.
"That was the other reason I really wanted to take it on, just being somewhat lackadaisical and unmotivated about writing," he said. "This forces me to focus the mind and write songs and get things done; otherwise they wouldn't get done."
Source link