Postmedia arts writer Lynn Saxberg shares her recommendations on things to do in the third week of January.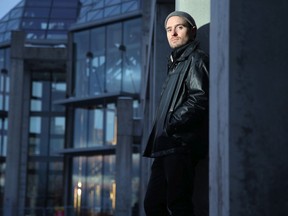 Reviews and recommendations are unbiased and products are independently selected. Postmedia may earn an affiliate commission from purchases made through links on this page.
Article content
Postmedia arts writer Lynn Saxberg shares her recommendations of things to do in the third week of January.
Article content
The Gatineau musician who describes himself as an ambassador of ambient music will demonstrate his vintage-synth stylings when he performs at the National Arts Centre's Fourth Stage on Friday, Jan. 20. Appearing as a trio with Yolande Laroche and Phil Charbonneau, Nick Schofield will weave music from his last album, 2021's Glass Gallery, which was inspired by the light and space of the National Gallery of Canada, with new material, along with a classic cover that pays tribute to the origins of ambient music. The music starts at 8:30 p.m. Tickets are available at ticketmaster.ca.
FILM
Ever Deadly, the National Film Board documentary by Tanya Tagaq and Chelsea McMullan, arrives in Canadian theatres this week, including two screenings at the Bytowne Cinema, 325 Rideau Street, on Jan. 22 and 23. While the film offers a fascinating glimpse into the life and work of Polaris and Juno award-winning Inuk artist Tagaq with a blend of concert footage and spectacular images of Nunavut, it also illustrates the historically heavy-handed treatment of the Inuit by the Canadian government. Find tickets and showtimes at https://www.bytowne.ca/movies/ever-deadly/
Article content
ART
Eleven Ottawa-area artists have been selected to compete in the city's first Art Battle of 2023, a match that challenges them to create a masterpiece in a limited amount of time while an audience cheers them on. The all-ages event is part of a world-wide network of Art Battles that has presented more than 2,000 events in 20 countries since 2001. With a wildcard spot reserved for a last-minute entry from the audience, the 12 artists will compete in three 20-minute rounds, the winner determined by audience votes. The victor gets to advance to city, regional, national and world championships. The paint will be flying from 7-10 p.m. Saturday, Jan. 21 at Arts Court, 2 Daly Ave. Find tickets at eventbrite.com. 
FAMILY 
Article content
The National Arts Centre Orchestra celebrates the music of Latin America at this month's edition of its family adventures series. Under the direction of Cuban-born conductor Cosette Justo Valdés, the orchestra will explore everything from tango to bossa nova as it showcases the complex rhythms and unique instruments of the Latino musical spectrum. The concert, at 3 p.m. Sunday, Jan. 22, is aimed at families with children five and up. Tickets are available at ticketmaster.ca. 
FOLK
Julie Corrigan's popular Girls to the Front showcase returns to Irene's Pub, 885 Bank St., on Jan. 25. The monthly songwriters' circle, which finds Ottawa Valley chanteuse Corrigan trading tunes with other female singer-songwriters, kicks off 2023 with two of her favourite guests. Susan Odle, better known as Susan O, and Carol Goodman, better known as the Joni Mitchell-crooning singer, ENiiD, are coming out of hibernation for the 8 p.m. event. New for this year is a cover charge of $15 at the door. 
Article content
JAZZ
Halifax-based, Ottawa-raised saxophonist Kenji Omae plays a rare hometown gig Friday, Jan. 20, at Montgomery Scotch Lounge (750 Gladstone Ave. west of Bronson Avenue). Joining the St. Francis Xavier University music professor will be pianist Peter Hum, bassist Chris Pond and drummer Valera Negovora. Sets are at 8 and 9:30 p.m. Music charge: $15. Reservations at the cozy venue of less than 40 seats can be made at montgomeryscotchlounge.com.
THEATRE
Award-winning Indigenous poet and comedian Cliff Cardinal presents a radical retelling of Shakespeare's As You Like It at the Great Canadian Theatre Company this week. By lacing Shakespeare's text with the lived experience of Indigenous peoples, and throwing in some identity politics, he brings an unexpected, and often provocative, new energy to the timeless comedy. It runs until Jan. 29 at the GCTC, 1227 Wellington St. For tickets and times, go to https://www.gctc.ca/shows/ayli 
Want to stay in the know about what's happening in Ottawa? Sign up for the Ottawa Citizen's arts and life newsletter — Ottawa, Out of Office — our weekly guide to eating, listening, reading, watching, playing, hanging, learning and living well in the capital.
Source link