In 2009, Ryan Murphy's "Glee" became a global phenomenon. The hit musical comedy-drama series — which follows a misfit choir group in the fictional William McKinley High School — quickly amassed a cult fanbase, known as "Gleeks." But despite its lighthearted and inspiring storyline, the show left behind a dark legacy, marred by both scandal and tragedy.  
"What started off as being such a celebration of love and acceptance ultimately became about darkness and death," Murphy told Entertainment Weekly in September 2016.
The show's behind-the-scenes drama is explored in "The Price of Glee," a new three-part docuseries from Investigation Discovery, which is also streaming on Discovery+. Each episode delves into the show's notoriety through interviews with former cast members, their relatives, friends and acquaintances, along with former crew members and entertainment reporters. Although most critics refrained from deeming "Glee" as "cursed," the show's memory does seem to be tainted.
Here are the 10 most shocking takeaways from the docuseries: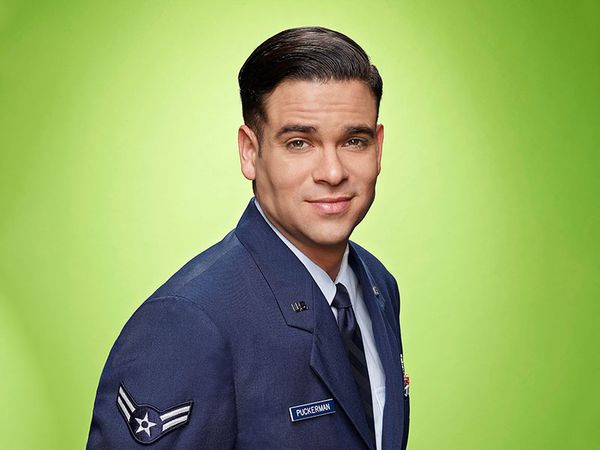 Mark Salling as Puck on the sixth and final season of GLEE (FOX Image Collection via Getty Images)
Salling, who played Noah "Puck" Puckerman on the series, claimed he was 19 years of age, even though he was 26 at the time of his audition. "Glee" set decorator Barbara Munch also described Salling as "a bit off" in the docuseries.
"He wasn't just a regular young man. He had some issues going on," Munch continued. "It seemed obvious, but it was really none of my business what they were."
A few months after the show ended, Salling was arrested for possession of child pornography on Dec. 29, 2015.  Two years later on Sept. 30, 2017, he pleaded guilty to the charges and was set to be sentenced in March. He died by suicide on Jan. 30, 2018, before a scheduled sentencing hearing.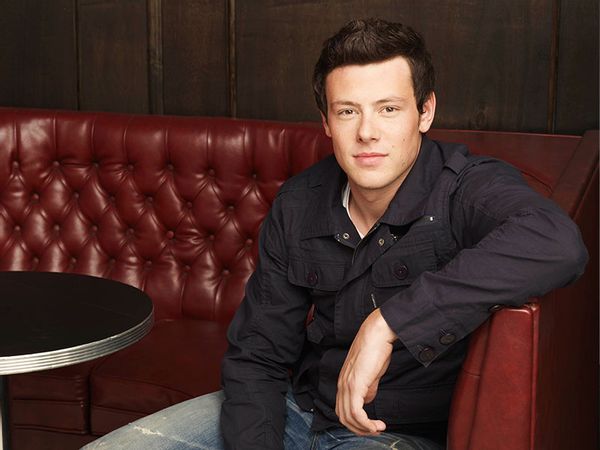 Actor Cory Monteith (FOX Image Collection via Getty Images)
Monteith began abusing drugs and alcohol a few years after his parents' divorce, per the documentary. Monteith also frequently skipped school and, at one point, attended programs for troubled teens.
"Cory's out-of-control behavior led to stealing large sums of cash from family," the documentary added. "Cory's mother and friends staged an intervention when he was 19. He entered a drug rehabilitation program in 2001."
Shortly after he secured the role of Finn Hudson — a popular jock and the star quarterback of his high school football team — Monteith was keen on keeping his past a secret, per his friend Frederic Robinson:
"When he got the part, he was supposed to be this good kid playing this role. He didn't want his past getting out," Robinson said. "The beginning of his success with 'Glee,' we were really being told, 'Don't let it out that he's got the drugs and alcohol problem.'"
Monteith, however, didn't hide anything from his former roommate Justin Neill, who recalled, "When Cory moved in, it was New Year's Eve 2008. The next day, he said it in such a flippant manner, something about drug use and he wanted us to know right away that he had a past, he's sober now and that this is a big part of his life."
It wasn't until the end of "Glee's" second season that Monteith publicly came forward with his addiction struggles. Monteith's publicist Lesley Diana said he wanted to share his story to help others.
"Cory wanted to help others who perhaps were in that same situation to show them that you can come out on the other side and do well in life," Diana said.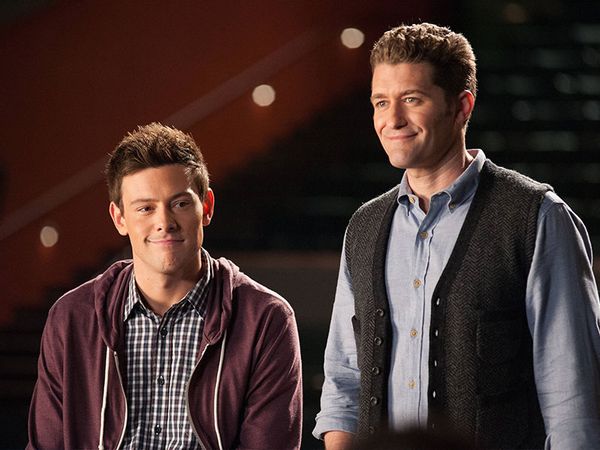 Cory Monteith and Matthew Morrison star in the "Lights Out" episode of GLEE (FOX Image Collection via Getty Images)
"He said he was at a party and he hadn't been drinking and wanted to have a drink but knew he shouldn't," said Dugg Kirkpatrick — who worked in the hair department of "Glee" Season 3 — when recounting one of his last conversations with Monteith. "And he was told by a certain cast member that same night, 'You know, if you want to have a drink, you should have a drink. I'll be here, you can always trust that I will be here for you.'"
Kirkpatrick refrained from explicitly naming the cast member in question.
"In my opinion, you would never say that to someone who is sober," he continued. "And so that confused him and kinda made him mad, and so he started drinking because he was given permission by somebody. . . . I'm not gonna mention names because I wasn't there and I didn't hear the person say it."
He added that Monteith "resented it, but also he took the direction." 
"I think it set him on a path to destruction."
Cory Monteith (Jason LaVeris/FilmMagic/Getty Images)
"There was a period where it seemed Cory was getting more and more isolated," Neill recalled. "He just got to the point where he just hated fame. [He said], 'I'm just so tired, I want to rest for a bit. I'm sick of singing these songs,' and I remember him specifically saying, 'I wouldn't wish fame on my worst enemy.'"
Neill added, "I'd seen the fame, but I didn't realize how hard it was for him until then. I think with that level of fame, you lose sight of who you are. To every single person, he wasn't Cory anymore. He was now Finn. We just knew he wasn't in the best place."
On July 13, 2013, just weeks before filming for Glee's fifth season began, Monteith died from "a mixed drug toxicity" consisting of heroin and alcohol.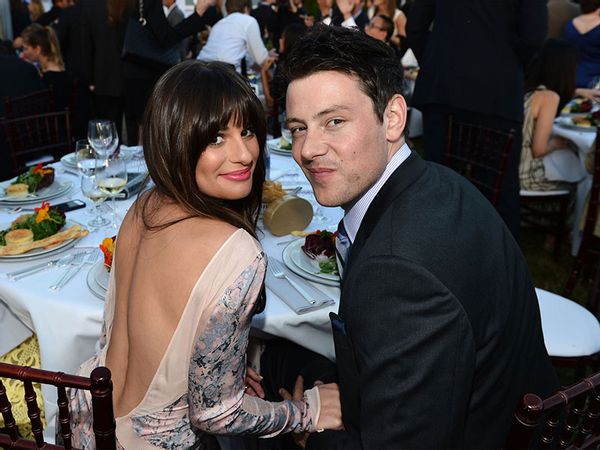 Actors Lea Michele and Cory Monteith inside the 11th Annual Chrysalis Butterfly Ball on June 9th, 2012 (Michael Buckner/Getty Images For Chrysalis)
Just like their characters Finn and Rachel Berry, Monteith and Lea Michele began dating — albeit off-screen — in 2012. But many of the "Glee" crew members recalled being wary of the couple's relationship due to Michele's negative reputation:
"I did not understand the two of them together," said executive assistant Garrett Greer. "I had friends who lived in New York and grew up with Lea, so I was very aware of her reputation. She had a rep for being a little bit difficult."
Barbara Munch also said that she found the couple to be "interesting" and was "really very surprised" that they ended up together.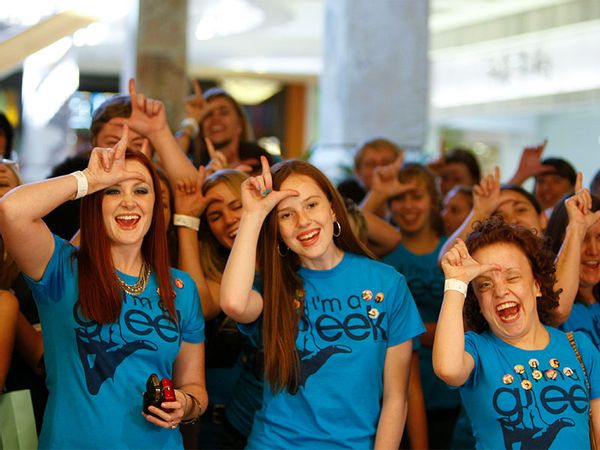 Fans of FOX TV's show 'Glee' attend a meet-and-greet at the Hot Topic store in Park Meadows Mall on August 27, 2009 in Denver, Colorado. (Riccardo S. Savi/Getty Images)
Large crowds of the show's fanbase, commonly known as "Gleeks," would show up outside of the sets to meet the actors. In one instance, a random fan ran up to Chris Colfer, who starred as Kurt Hummel, and kissed him on the mouth. But the situation escalated when a fan jumped over one of the set walls and discovered where the cast was waiting in between shots. 
"They had to build a wall from their trailers to the set," explained Stephen Kramer Glickman, who was a close friend of Monteith and notably played Gustavo Rocque on the Nickelodeon sitcom "Big Time Rush." "That was like a tunnel so that the cast could travel safely without the tours bothering them or just people in the parking lot seeing the 'Glee' cast and rushing them."
Increased social media attention also caused rifts amongst the castmates. Kirkpatrick said that he would often hear the actors talking about how many followers they had on social media, notably Facebook, Twitter and Tumblr.
"There was a competition," he explained. "In the beginning when they had to tweet every day, it was Lea that really had the numbers. Their head gets a little bit bigger. Yeah, to say the least."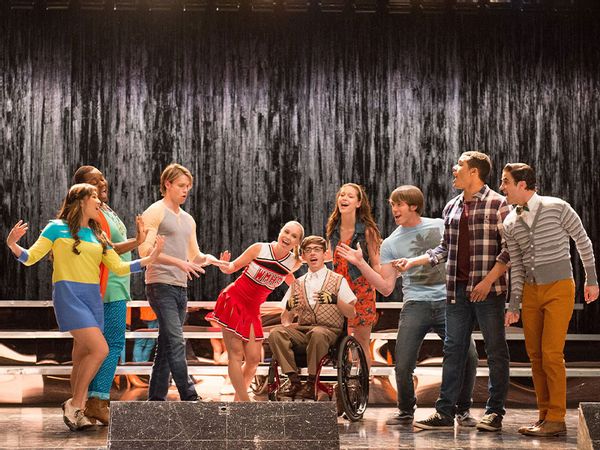 Jenna Ushkowitz, Alex Newell, Chord Overstreet, Becca Tobin, Kevin McHale, Melissa Benoist, Blake Jenner, Jacob Artist and Darren Criss star in the "Lights Out" episode of GLEE (FOX Image Collection via Getty Images)
"You know we finish Season 1, and they go and get ready to be on tour where normally on most shows, actors have down time," said Greer. "And get to have a little bit of a holiday break. And the cast of 'Glee' had to go all around the country and perform. It was a lot."
The documentary added that "Glee Live! In Concert!" a concert tour of the show that took place between 2010 and 2011, started its first leg with four cities and soon expanded to over 30 shows in 21 cities across the globe the following summer. The actors weren't getting any time off, even if they were getting paid considerable salaries.
Per entertainment reporter Katrina Mitzeliotis, Michele and Colfer were reportedly earning $45,000 an episode for the first season. Michele then got a sizeable raise, "where she was one of the top earners, climbing to the top of the payroll, earning $80,000 an episode," which put her on the same level as her more seasoned co-stars Matthew Morrison and Jane Lynch.
As for the show's rigorous schedule, the cast and crew would work from Monday through "Fraturday," which was early Saturday morning between 4 a.m. to 6 a.m. Actors had to be on set and in the booths, recording their songs. They had to be at vocal rehearsals and practices and classes and dance rehearsals — which lasted six hours each.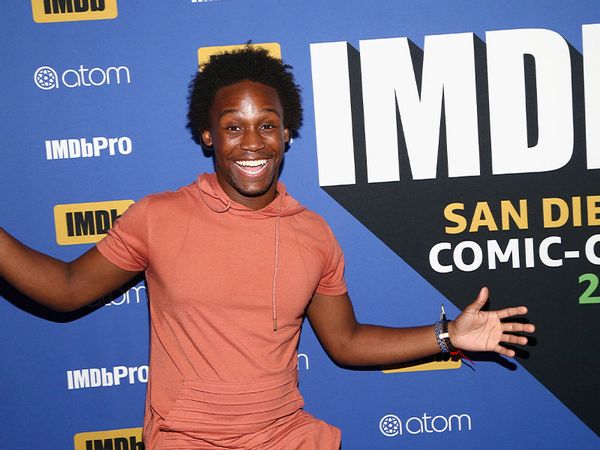 Dabier Snell attends the #IMDboat Party At San Diego Comic-Con 2018 on July 20, 2018 in San Diego, California. (Tommaso Boddi/Getty Images for IMDb)
Snell, who appeared in a Season 4 episode of "Glee," said that Michele didn't want him sitting at a shared lunch table with the main cast, even though he received an invitation from Darren Criss.
"After we had filmed that scene and obviously there was lunch, Darren was like, 'Yo, you should come by, All the cast members will probably sit down,'" Snell recalled. "I was like, alright, cool. I was there maybe 10 minutes and then I got pulled by somebody on set."
He continued, "They were like, 'Hey, Dab, can I talk to you for a minute?' And I was like, yeah, sure. So, she goes, 'Somebody specifically at the table doesn't want you sitting there.' And I was like, what? So, she was like, 'I'm really sorry about that. It's not about you. It's just the person there doesn't feel like you belong with the rest of the group.'"
When he asked if the person was Michele, the crew member allegedly winced before nodding. 
"Like, wow, I really just got pulled because of my status on the show," Snell added. "I've never really experienced anything like that, even in a high school setting."
Actress Naya Rivera (Imeh Akpanudosen/Getty Images)
Naya Rivera's father, George, said the last time he spoke to his daughter was over FaceTime:
"I get a sinking feeling cause we've been boating forever," he said. "I was FaceTiming with her trying to talk her through the pitfalls of trying to anchor your boat. First of all, I said, 'Naya, you're on a pontoon boat, that's not a boat . . . why are you on a pontoon boat?'
"I said, 'Do not jump off that effin' boat. If you've got an anchor, you can anchor it, but do you know how to anchor it?" he continued. "We went through a couple iterations like that and then the FaceTime call hung up and that was the last time I talked to her."
When he got the call about Rivera's disappearance, George drove from Knoxville, Tennessee, to Ventura County, California, but knew deep down that it "was over with." Rivera's son Josey was found in the boat asleep, wearing a life jacket. 
"You don't find a drifting, 5-year-old child asleep on a boat at the end of a lake without his mother and have any hope," said Rivera's father. "I had no hope."
When reflecting on his daughter's passing, George said, "You don't process it . . . I don't know what everybody else does but for me, it's as fresh today as it was two years ago."
"[Naya] knew she was on a really good show with a lot of tragedies. Don't know if you can equate that to fame, but I think it has something to do with it."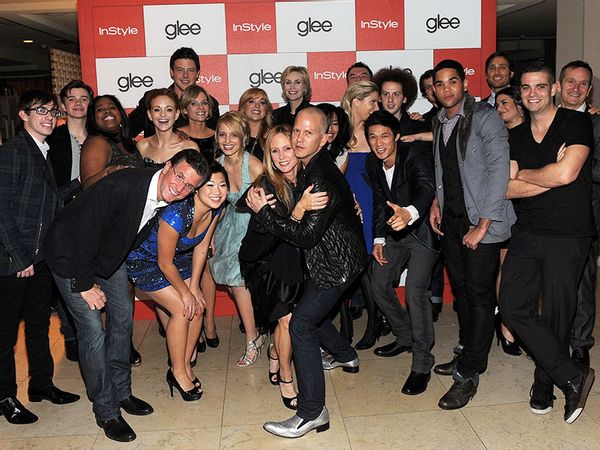 The cast & crew of "Glee" with 20th Century Fox Television president Kevin Reilly (Front L) and 20th Century Fox Television co-chair Dana Walden (C) at Sunset Tower on January 9, 2010 in West Hollywood, California. (Michael Buckner/Getty Images for InStyle)
In addition to Monteith, Salling and Rivera, several "Glee" crew members died during the show's run, although it wasn't widely reported.
The specific individuals include rigging gaffer Mitchell Byerly, assistant director Jim Fuller, production assistant Nancy Motes, a "lead prop guy" named Paul, and a stand-in for Matthew Morrison, who played Mr. Schuster.
"The Price of Glee" is currently available for streaming on Discovery+. Watch a trailer for it below, via YouTube:
Source link