Five minutes into my chat with Smokey Horse's owner, Karuna Bajracharya, I realise that my food story needs to actually be about how this Braidwood restaurant/pub came to exist.
Born in Kathmandu, Karuna moved to Braidwood as a young boy. Braidwood is home. He and his wife/business partner, also named Karuna, wanted to bring a little of their culture to their hometown, and have a space for their friends to hang out.
"Before Smokey Horse, we had been trying to buy the pub across the road!" Karuna says. "It was the big dream. We'd built a two-year business plan around it. Everything was lined up to buy that pub, but it fell apart at the last minute. It was devastating."
After the fallout, the couple saw the place across the road that had been for sale for a while and organised to have a look. The interior is massive; not what they had at first been dreaming of, but it held possibilities. Quickly, Karuna says, they were in, and it turned out better than they could have hoped.
"We wondered: 'How are we going to make this work?' We couldn't even afford a chef."
Years earlier, Karuna and his mum ran a food caravan at Canberra music festivals, making Nepalese curries and momos. They decided to start by doing what they knew, serving up Himalayan fare.
"Somehow, I ended up in the kitchen for three years!" Karuna laughs. "Cooking the family recipes. I had Mum training me, and my mother-in-law helping me too. The business flourished."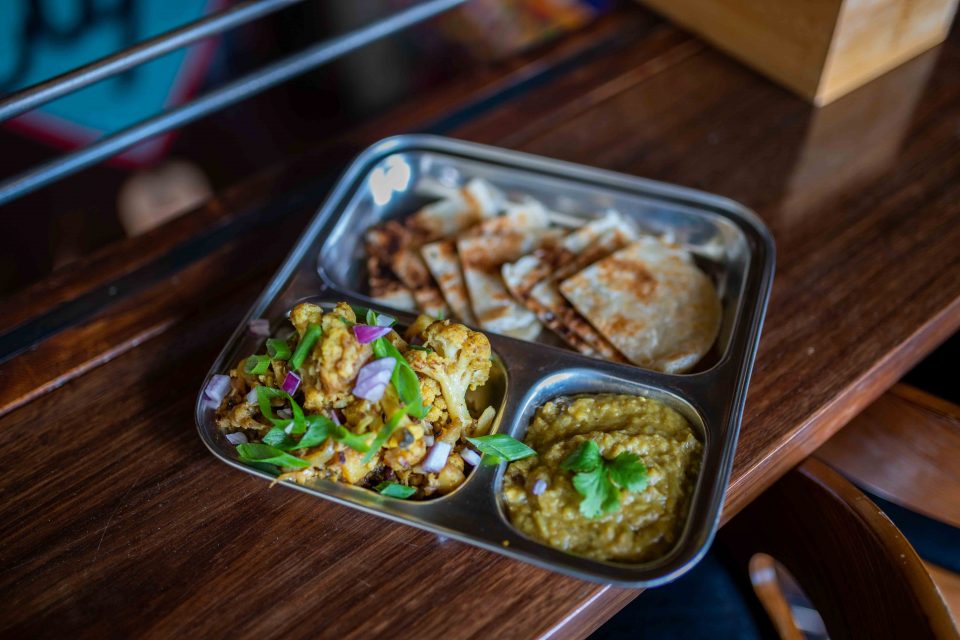 Vegan aloo gobi with lentil dahl and paratha Photo: Kazuri Photography.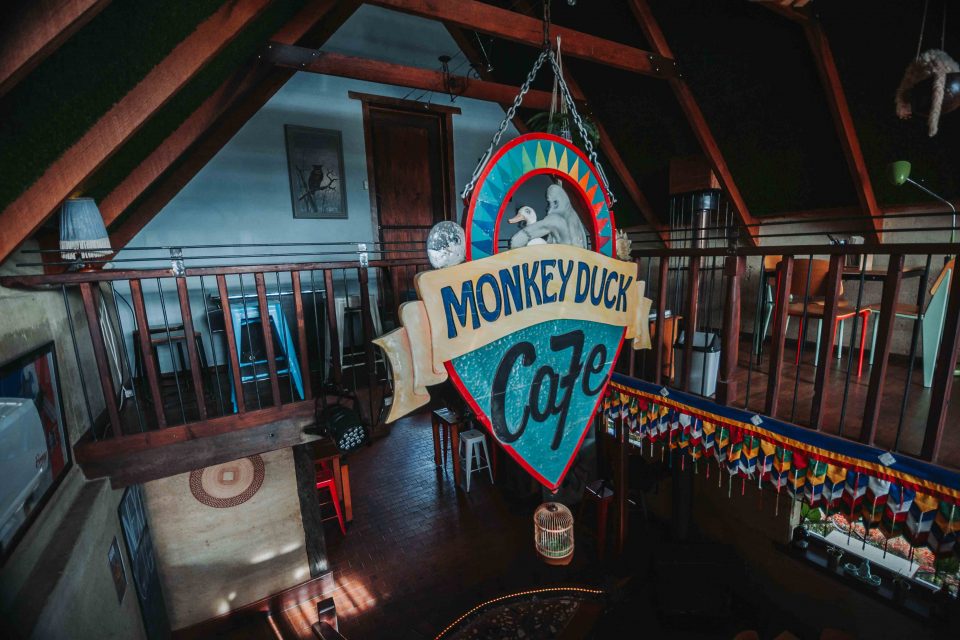 Monkey Duck Cafe's original sign! Photo: Kazuri Photography.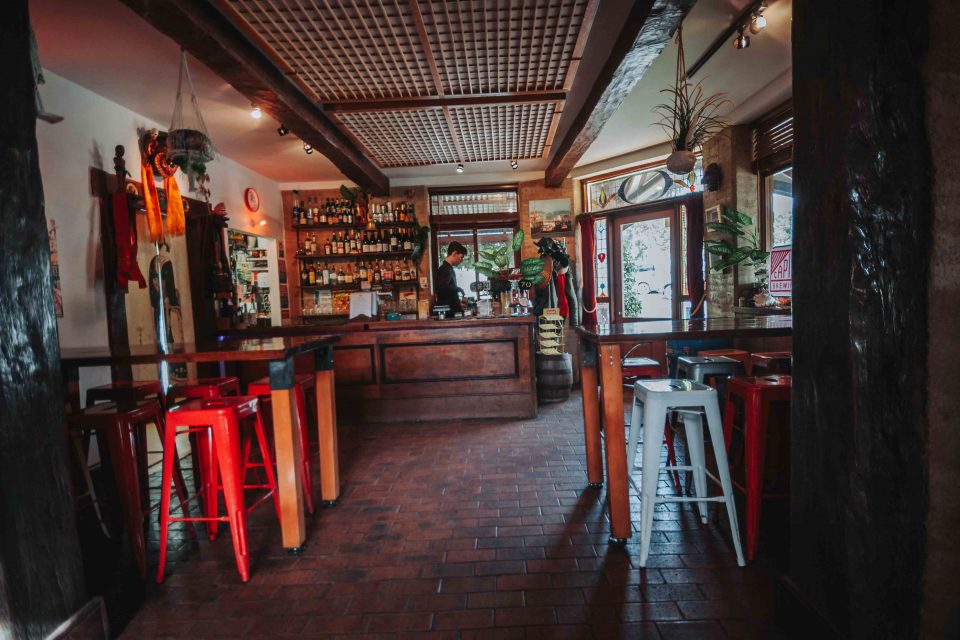 Ground level at Smokey Horse. Photo: Kazuri Photography.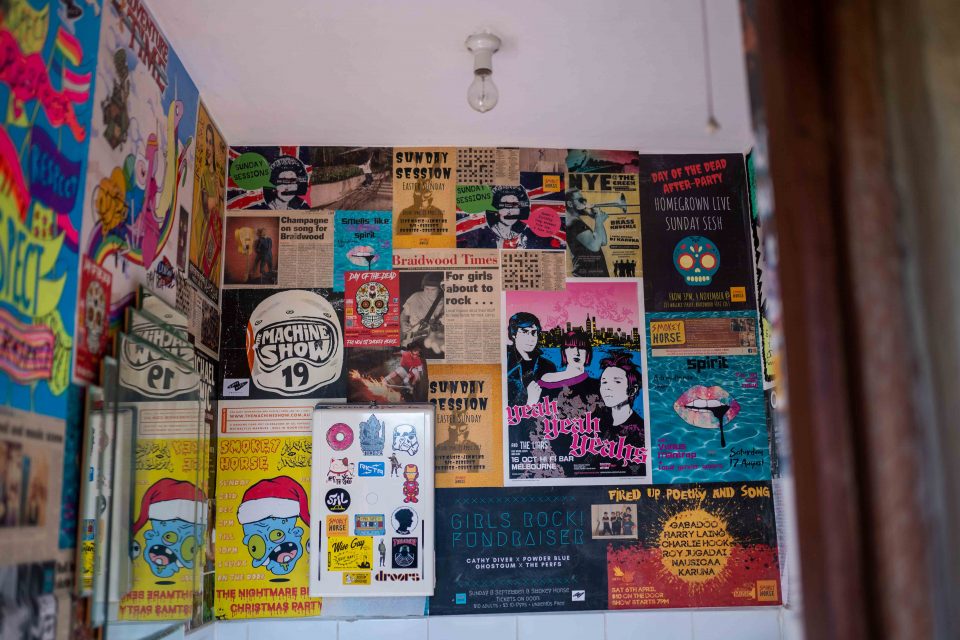 Posters from previous gigs! Photo: Kazuri Photography.
The resident Smokey Horse car. Photo: Kazuri Photography.
Karuna has a lengthy relationship with live music, both behind the scenes and out front. He is also a sound engineer, understanding the little details that make all the difference.
The two Karunas invested in soundproofing and double glazing, bringing in state-of-the-art lighting, a sound desk, and a DJ booth. As juggling multiple roles became tricky, it was time to hire a chef. Ashish is also from Kathmandu. Migrating to Australia, he completed his cert 4 and was astonished to come across an advert asking for a Nepalese chef in a small regional town.
"Ashish has transformed our recipes and menu," Karuna says. "We've made everything from scratch, and he's taken it to the next level. Smokey Horse has always been a hybrid business – restaurant, bar and live music venue."
The menu offers a wide range of popular Himalayan meals from Momo (Nepalese dumplings), choila (fragrant pulled beef or pork), and a wide range of curries.
How this place got its name is a story in itself. The venue's hoped-for name was to be 'The Monkey Duck,' based on the original Monkey Duck Cafe in Braidwood, whose moniker is synonymous with the region's bohemian misfit element. Two weeks before Karuna went to register the name, it was taken!
"It was another massive disappointment. But then my childhood mate suggested 'Why don't we just use our first pets' names – two dogs who were best friends too: Smokey and Horse?'"
Then the story comes full circle. Monkey Duck Cafe's original sign came up for sale on Gumtree. Once the seller heard Karuna's story, he let them have it for $50, and it now hangs, chandelier-like, from the rafters of Smokey Horse, looking down on everything.
Smokey Horse creates a safe space for an alternative crowd to come to. They run blackboard events, where emerging musos can cut their teeth with a friendly audience, and where they champion improvised jamming. "Some of the improvised stuff is the best music of the night," Karuna enthuses. "The acoustics are incredible."
The word is spreading that this is a great place to perform; bands approach Smokey Horse for gigs. The Karunas stream and record the live performances to a high quality using 4K cinema cameras, recording quality live audio tracks.
"Come see great, original, live music. We serve quality local wine, local craft beer, and the food is unique and delicious."
Smokey Horse is located at 183 Wallace St in Braidwood.
It is open 5 pm to midnight on Thursday, 3 pm to midnight on Friday and Saturday and from noon until 10 pm on Sunday. Follow Smokey Horse on Facebook and Instagram to see its deliciousness and upcoming gigs. Karuna says, "Come to our gig this Friday 14th Jan, with A.GIRL; a rising superstar, already sold out the Opera House as part of Vivid Live and played this year's NRL Grand Final amongst many other achievements! Her management approached us based on our growing reputation as a live music venue."