"The only way for an independent artist to be noticed in a world awash with content is by having a unique selling proposition (or USP). Without a USP an independent artist will struggle to be heard and seen," argues Laborde.
The USP Laborde cooked up is music for cats and dogs — not generic muzak but songs written for individual animals that reflect their personality and capture their "voice", which moves their owners and touches the hearts of pet lovers across the globe.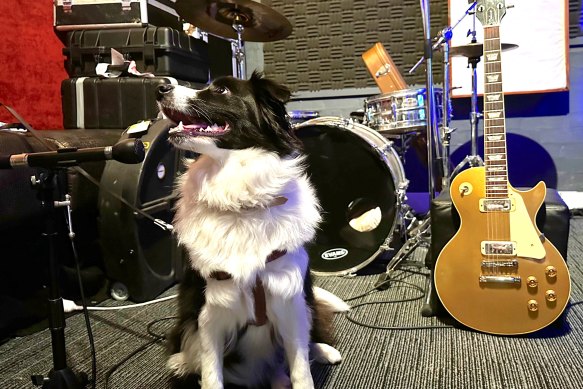 Wright admits that when Laborde came to him with the idea of making music specifically for a market that, quite frankly, is not going to get up and dance, hang out for your next album and line-up for tickets and merchandise he thought it is crazy.
"A lot of people approach me with ideas or with artists they want me to work with and invest my time in. But this was by far the most out there," says Wright. "I have two cats and I understand the love for cats, but to making music specifically for cats and dogs seemed insane."
However, says Wright, Laborde's madcap idea to make music for pets was backed by a sound business model. "I was engaged," remembers Laborde, a talented multi-instrumentalist and a member of the acclaimed Perth band Alter Boy.
The cornerstone of that plan was finding out what kind of sounds please pets.
"We did extensive research on the frequency of recorded music and discovered that cats and dogs prefer music recorded at 432Hz and not 440Hz, which is standard concert tuning," explains Laborde.
"It's less harsh and more beautiful," says Wright.
"A lot of people think dogs like high-pitched sounds because it what they can hear. But that is absolutely wrong. They prefer the frequencies of the human voice, which match the those of woodwind instruments. And cats love the sound of cats purring. I've created pads that replicate the frequency of the purring."
Laborde and Wright's next idea was to personalise their music, both in the style chosen — they range across the history of music for their inspiration — and using the sounds made by the cat or dog, artfully embedding in each track is the bark or purr of the beloved pet (not quite Jerry Hall in Bryan Ferry's Let's Stick Together, but you get the idea).
The duo — now calling themselves Forest, after Wright's studio — released their first batch of songs on Spotify in November 2021 and immediately discovered a cat and dog-adoring community who love their pets so much they're prepared to send in barks and purrs and pictures.
Every time one of the songs is played, most often when the owners leave on the stereo while they're out, Laborde and Wright earn half a cent.
"It is not paying a wage yet, but the thousands of streams we get every month is bringing in a solid revenue," says Laborde.
"A friend of mine Queensland is creating meditation music and making music and making $65,000 a month. There is real money if you can get it right."
While music for cats and dogs sounds like a bit of gag — I must admit that when I was told about Laborde and Wright's enterprise I found myself reaching for jokes of the subwoofer variety — the pair are justly proud of the music they're producing.
"If you put this on during a dinner party I guarantee you will have your guests saying, 'This is really nice music. Who is the artist?'" says Laborde, adding that yoga studios all around the world are using their music.
"Why shouldn't humans enjoy the music their pets have the privilege of listening to?"
The Morning Edition newsletter is our guide to the day's most important and interesting stories, analysis and insights. Sign up here.
Source link