John Bonham's drumming still impresses music fans more than 40 years after he died. The Led Zeppelin timekeeper did things no one before him did and what few who came after could replicate. Zep bandmate John Paul Jones needed just seven words to praise Bonham's drumming skills. You could point to several ways he was unique among drummers, but Led Zeppelin engineer Glyn Johns said one skill set made Bonham different from anyone else.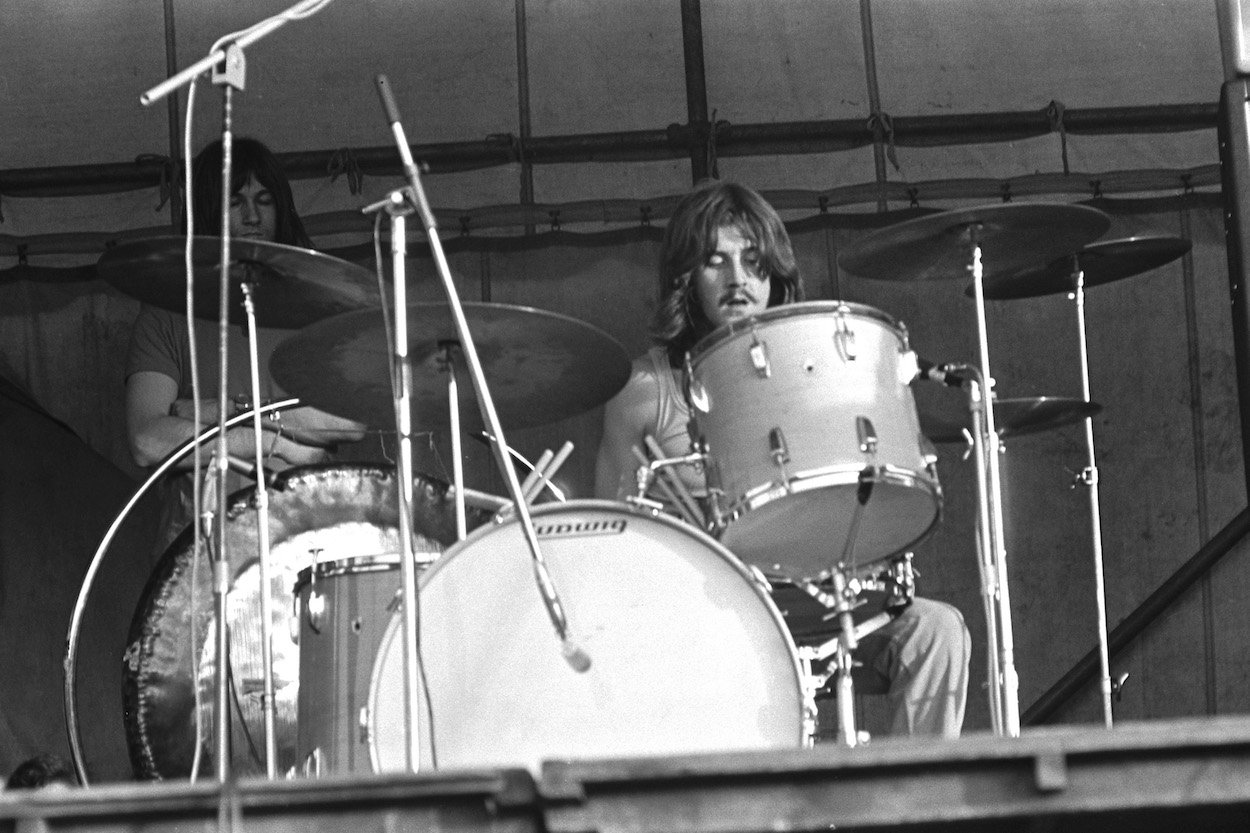 John Bonham broke new ground with his drumming in Led Zeppelin
Bonham gigged with several local Birmingham, England, bands when he started his career. He toured with American-born, England-based musician Tim Rose before joining Led Zeppelin. Even then, Bonham had a vision for his drum technique — make his instrument a primary one instead of one relegated to the background. Zep's founding guitarist Jimmy Page was the perfect player to make it happen.
Page intended his post-Yardbirds band to feature all the players, not just him. That rang even more true when he saw the skill his bandmates possessed. The drummer made his intentions clear within the first few seconds of Led Zeppelin's debut album.
Bonham's rapid-fire bass drum kicks, his habit of keeping both heads on his toms (many drummers removed the bottom head), and his penchant for using the biggest drums available were all unique to him. But Led Zeppelin insider Glyn Johns, who engineered the debut, said something else about Bonham set him apart.
Led Zeppelin insider Glyn Johns said Bonham was different since he was one of the only rock drummers able to tune a kit
His kick drum work and kit setup weren't the only things that set Bonham apart. 
As C.M. Kushins writes in the biography Beast, Bonham was one of the only rock 'n' roll drummers of his era to use the bass drum in his fills. Cream's Ginger Baker did too, but not nearly as frequently as Bonzo. 
Yet Johns, who engineered Led Zeppelin's debut (as well as Abbey Road and several Rolling Stones records in the 1960s), said Bonham was different from his contemporaries because he knew how to tune his kit. It helped him achieve his signature sound, which shined through on every Zep album until the group disbanded in 1980 (per Kushins):
"I'd recorded Jimmy and John Paul nine million times, but I hadn't recorded the other two [Bonham and Robert Plant]. The sound from Bonham's kit was phenomenal because he knew how to tune it, and not many rock 'n' roll drummers know how to do that."

'Led Zeppelin I' engineer Glyn Johns reveals what set John Bonham apart from other drummers
Other bands of the era had standout drummers. The Beatles' Ringo Starr was subtly brilliant and rarely overplayed. The Rolling Stones Charlie Watts delivered every beat right on time. Whirlwind Keith Moon gave The Who a larger-than-life-sound. Yet, according to Johns, Bonham stood out from them since he actually knew how to alter the tone of his drum heads so he could achieve the perfect sound.
Bonzo's sound shined on every Zep album
One of Bonham's gifts as a drummer was making listeners appreciate the instrument even if they didn't play it. There was plenty to appreciate during Led Zeppelin's career. 
On the debut, he nearly steals the spotlight on two of Page's best guitar solos. He sits out two songs on Led Zeppelin IV and enters "Stairway to Heaven" halfway through, and Bonham still makes his presence felt on bangers like "Rock and Roll," "Four Sticks," "Black Dog," and "When the Levee Breaks."
Plant said Bonham's drumming didn't sound human on the epic "Achilles Last Stand." Bonzo also played with restraint, though, with "Fool in the Rain" being a prime example.
His skills on the kit were clear to non-musicians who loved Led Zeppelin. Zep insider Glyn Johns said John Bonham differed from his peers because he actually knew how to tune his instrument.
For more on the entertainment world and exclusive interviews, subscribe to Showbiz Cheat Sheet's YouTube channel.