It's hard to imagine anyone but Robert Plant standing at center stage for Led Zeppelin. He once said he was embarrassed by some of his off-stage antics, but Plant delivered for fans when the lights went on. His vocal range, eye-catching dress, and confident strut made him quite the showman. Still, Twisted Sister singer Dee Snider doesn't believe Plant was a good frontman, and we might not have ever heard a worse music take than that.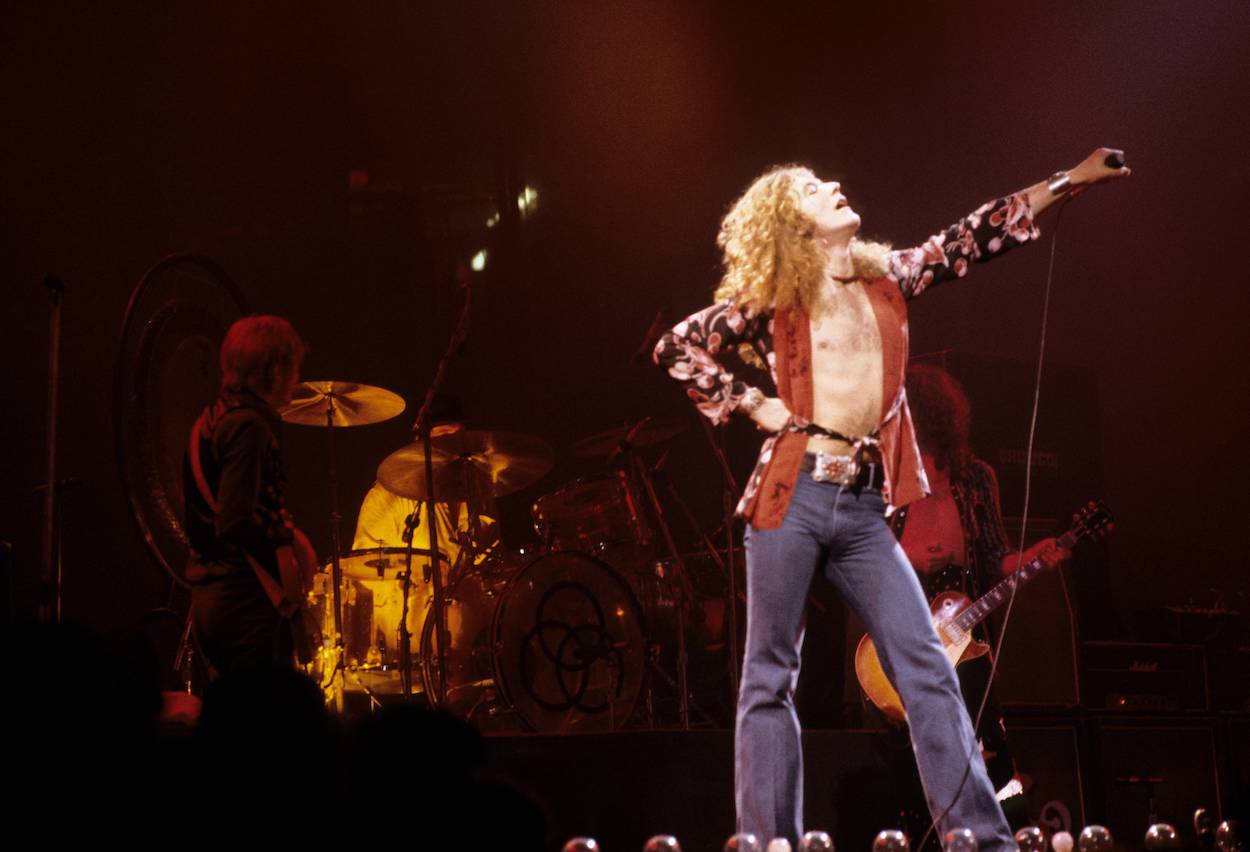 Led Zeppelin's Robert Plant was not a good frontman, according to Dee Snider
What started as Snider paying homage to Rainbow drummer Cozy Powell on Twitter spun out of control and became a debate on rock 'n' roll frontmen. 
One fan said Rainbow singer Ronnie James Dio was one of the great frontmen of all time, but Snider disagreed. Snider name-checked Queen's Freddie Mercury as a standout singer and frontman. When a Twitter user nominated Plant as one of the greatest frontmen of the 1960s and 1970s, Snider fired back:
"I'm a HUGE Plant fan vocally, but he showed me nothing as a performer," Snider tweeted. "Looked amazing, great hair, stood on stage with one hand raised, and sang his ass off. Not a frontman in my opinion.
"And FYI, many great frontmen are not great singers."
He's entitled to opinion, but that doesn't mean we won't drag Snider for having one of the worst takes about Plant's frontman qualifications.
Snider's take about Plant's frontman status is one of the worst we've heard
Snider's claim that Plant wasn't a great frontman in Led Zeppelin is absurd. It's asinine.
Plant might not have been a flamboyant showman like Mercury or Van Halen's David Lee Roth, but he strutted, danced, and dressed to grab attention as any good frontman would. He established himself as a strong presence fronting Led Zeppelin despite the crippling stage fright he suffered in the early Zep years (per Far Out Magazine).
Plus, Led Zeppelin always operated under the premise each band member was just as important as the other. That's what they signed up for. 
Founder Jimmy Page was a guitar maestro, but one of the keys from the first album onward was that each player had a chance to shine. That's what Page wanted all along. If Plant had suddenly transformed into Freddie Mercury, he could have caused a rift within the band that might have jeopardized its future. Plant provided exactly what Led Zeppelin needed. Nothing more, nothing less. If that isn't the sign of a rock-solid frontman, we don't know what is.
And we're just going to throw this out there. If your band needs a showman at center stage to get the crowd interested, then chances are your music isn't good enough anyway. Led Zeppelin didn't need Plant to be a scene-stealing frontman. Page, John Bonham, and John Paul Jones were ace musicians; along with Plant, they formed a formidable quartet whose music spoke volumes without needing a frontman to hype it.
He had several standout moments on the mic with Led Zeppelin
Plant once said he didn't learn how to sing properly until Led Zeppelin III. Yet he had several standout moments on the mic before (and after) that record.
Plant's call and response segment with Page's guitar on Led Zeppelin I cut "Dazed and Confused" memorably paves the path for Page's stellar solo. The pair do something similar on the signature track "Whole Lotta Love" from Led Zeppelin II. Plant shows restraint with his vocals on "Your Time Is Gonna Come" from the debut, and his descending notes on the "Drive me insane" lines in "Communication Breakdown" are hardly just shouted.
Later in the Zep's career, Plant flexed his vocal muscle on his Led Zeppelin IV duet. He displayed his range on "The Rain Song" and channeled his best Elvis Presley on several later-stage Led Zeppelin tunes.
Snider's take that Robert Plant wasn't a solid frontman for Led Zeppelin is terrible. He was the perfect fit for the band and grew into his role as a capable showman.
For more on the entertainment world and exclusive interviews, subscribe to Showbiz Cheat Sheet's YouTube channel.