Joining Led Zeppelin wasn't a slam dunk for John Bonham. Though founded and led by notable guitarist Jimmy Page, Bonzo wasn't sure about joining the band since he was already locked into a lucrative gig. He might have had second thoughts when the Led Zeppelin's manager promised to hurt Bonham a few weeks later.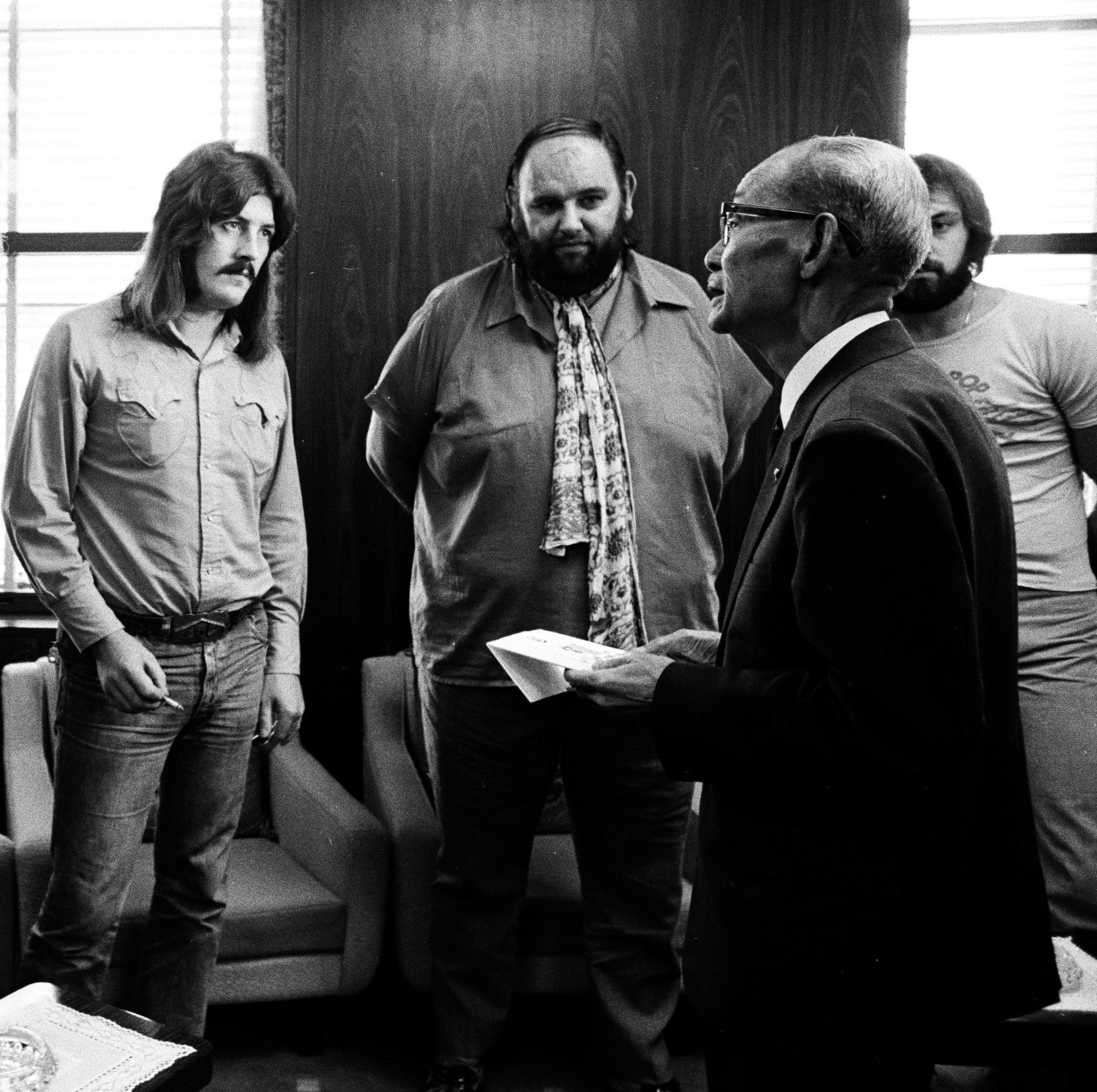 Led Zeppelin was the perfect band for John Bonham, and he was the ideal drummer for the group
Even before he became a world-famous timekeeper, Bonham wanted his drumming to stand out. He envisioned his drums as a lead instrument instead of being relegated to the background. He found a kindred spirit in Page, whose vision for Led Zeppelin was to make each player equally important.
The band found its groove almost immediately. Zep's first rehearsal put the quartet on the track they followed to international stardom. A Scandinavian tour (as the New Yardbirds) in 1968 segued into a jaunt around England followed a few weeks after the band formed.
Those early shows instilled confidence in every band member, but perhaps none more than the drummer. When he got carried away with his playing during one practice session before that tour or England, Led Zeppelin manager Peter Grant threatened to hurt Bonham if he kept it up.
Led Zeppelin's manager threatened to hurt Bonham if he didn't listen to Jimmy Page
Led Zeppelin's Scandinavian tour proved to Bonham he made the right decision to join the band. Audiences loved their version of the electric blues, and the extended jams allowed Bonham to cut loose on his kit. 
He did the same during a rehearsal session when the band returned from the mini-tour. Page asked Bonham to tone it down when he laid down a challenging beat that didn't fit the song. When he didn't listen fast enough, Grant laid down the law, writes Beast author C.M. Kushins:
"Do you like your job with the band?" the massive manager asked the drummer.

"Well, yeah," Bonham answered.

"Could you play drums in a wheelchair? Do as this man says. Behave yourself, Bonham, or you'll disappear — through different doors."

Led Zeppelin manager Peter Grant promises to hurt John Bonham
There was nothing subtle about Grant's approach. For Bonham, it was either shape up or ship out (maybe via stretcher). Though he and Page sometimes had run-ins in Led Zeppelin — such as when Bonham called out Page while recording "Stairway to Heaven" — the drummer understood Page was the one driving the band forward in its early days. 
Grant threatened to hurt Bonham early in Led Zeppelin's career, but the pair moved past it. Both men found themselves in the thick of a violent brawl at an Oakland, Calif., concert nearly a decade later (per Far Out Magazine).
Bonzo's drumming was a critical part of Zep's sound
One of Bonham's gifts as a drummer was making listeners appreciate the instrument even if they didn't play it. Bonzo impressed the best musicians, too, such as Led Zeppelin bandmate John Paul Jones, who praised Bonham in just seven words.
Bonham makes it clear from the first few seconds of Led Zeppelin's debut that his drumming won't be relegated to the background. He and Page share the spotlight within the first few seconds of Led Zeppelin I. Bonzo hits his snare drum at the same time Page plays the downstrokes on his guitar on the "Good Times Bad Times" intro; he plays along with the lead guitar instead of behind it. Bonham nearly steals the spotlight with his drumming on "Dazed and Confused" and "You Shook Me," two of Page's best guitar solos from his Led Zeppelin era.
Before he got on the same wavelength as Page, John Bonham was threatened with violence by Led Zeppelin's manager. It might have been harsh, but it helped keep Bonzo in line as Zep went on to have a wildly successful career.
For more on the entertainment world and exclusive interviews, subscribe to Showbiz Cheat Sheet's YouTube channel.