John Bonham remains one of the most revered rock drummers even years after his death. One could argue Led Zeppelin would have been a completely different band without Bonham's heft, and they'd be right. Bonham's vision for his drumming manifested itself on dozens of Zep tunes, and the band relied on his powerful playing to give it a harder edge. That's why Led Zeppelin couldn't replace him and continue when he died. Zep bassist John Paul Jones sometimes criticized Bonham, but he also needed just seven words to praise his rhythm section partner's skill.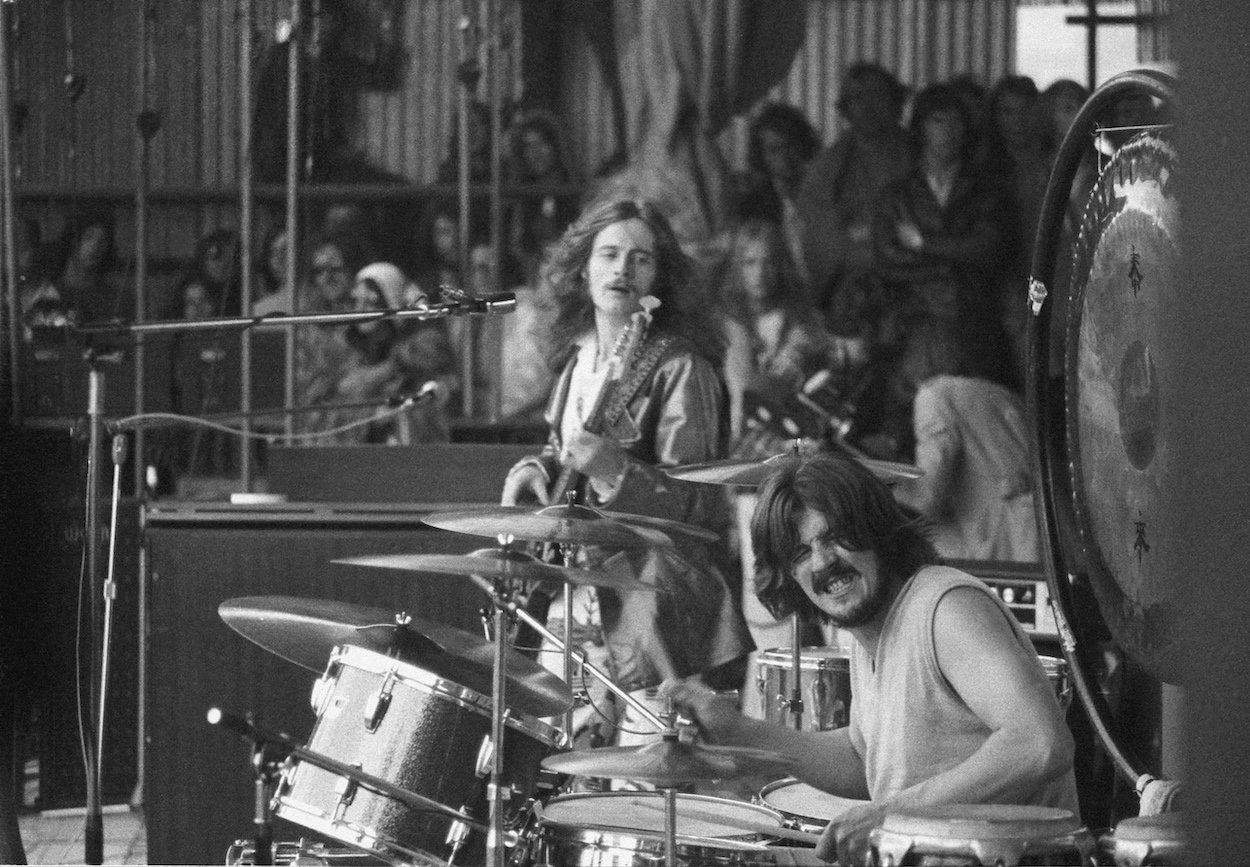 John Paul Jones criticized John Bonham more than once
Bonham took a bit of criticism for his drumming before he became famous. His drum mentor never thought he was very good, but he continued to work with him. Still, the self-taught Bonham rapidly established himself as an in-demand drummer in the Birmingham, England, area as a teenager.
Led Zeppelin bassist John Paul Jone formed a formidable rhythm section with Bonham. They clicked almost immediately, but Jones called out Bonham when the criticism was warranted.
Jones hates one Led Zeppelin song because of Bonham's uninspired drumming. Bonzo hated it, too, for what it's worth. Jones criticized Bonham's drumming on "Four Sticks" from Led Zeppelin IV. The intricate beat confounded Bonham, and Jones called him out on it.
Jones never hesitated to criticize Bonham, which makes his seven words of praise for the drummer carry even more weight.
Jones praised Bonham's drumming skills in just seven words
A drum kit might be the most personal instrument in rock music. A guitarist or bassist can pick up any guitar or bass and know the strings and notes will be in the same place as their own instrument. The drums are a bit different.
Drummers swing their arms wildly when they play. Bonham was no different. He needed his snare drum, floor toms, and cymbals precisely placed in order to play the beats he created for Led Zeppelin. He used unique tunings for his kit, too, so no other kit sounded quite like his.
Jones had two-fold praise for Bonham. The bassist first lauded Bonzo for creating intricate beats with a streamlined kit. Then Jones praised Bonham  for being able to find himself at home behind any kit, per Beast author C.M. Kushins:
"[John] only used a small kit, but he used to play large drums. He never played a large kit in terms of number of drums. He only ever used four drums most of the time and never had racks of stuff. It didn't matter what drums they were, I'd hear him sit down on all sorts of strange drum kits, and he'd immediately sound like him. It was just the way he hit them, plus an impeccable sense of timing."

John Paul Jones describes John Bonham's drumming talents
Jones' praise for Bonham boiled down to seven words: "It didn't matter what drums they were." 
Each drum kit is set up differently, depending on who plays it. It's a personal thing. According to Jones, Bonham sounded like Bonham no matter what drum stool he sat on. Whether he sat at his kit during concerts at Madison Square Garden or played Ringo Starr's drums during a party, Bonham sounded like Bonham every single time. And knowing he called out his playing partner more than once, Jones' seven-word praise for Bonham's skill was high praise indeed.
Led Zeppelin's rhythm section clicked right away
Led Zeppelin formed rather quickly. Founding guitarist Jimmy Page's former band, the Yardbirds, disintegrated in the summer of 1968. By October of that year, he had Zep in the recording studio working on their debut. 
The quartet — Bonham, Jones, Page, and singer Robert Plant — rehearsed before they did anything else. The musically accomplished Jones found an equal in Bonham at Led Zeppelin's first meeting. The cocky Bonzo backed up his self-assured attitude with his chops, and Jones knew they'd have something special.
He sometimes called out his rhythm section partner, but John Paul Jones needed only seven words to describe John Bonham's drumming talents.
For more on the entertainment world and exclusive interviews, subscribe to Showbiz Cheat Sheet's YouTube channel.