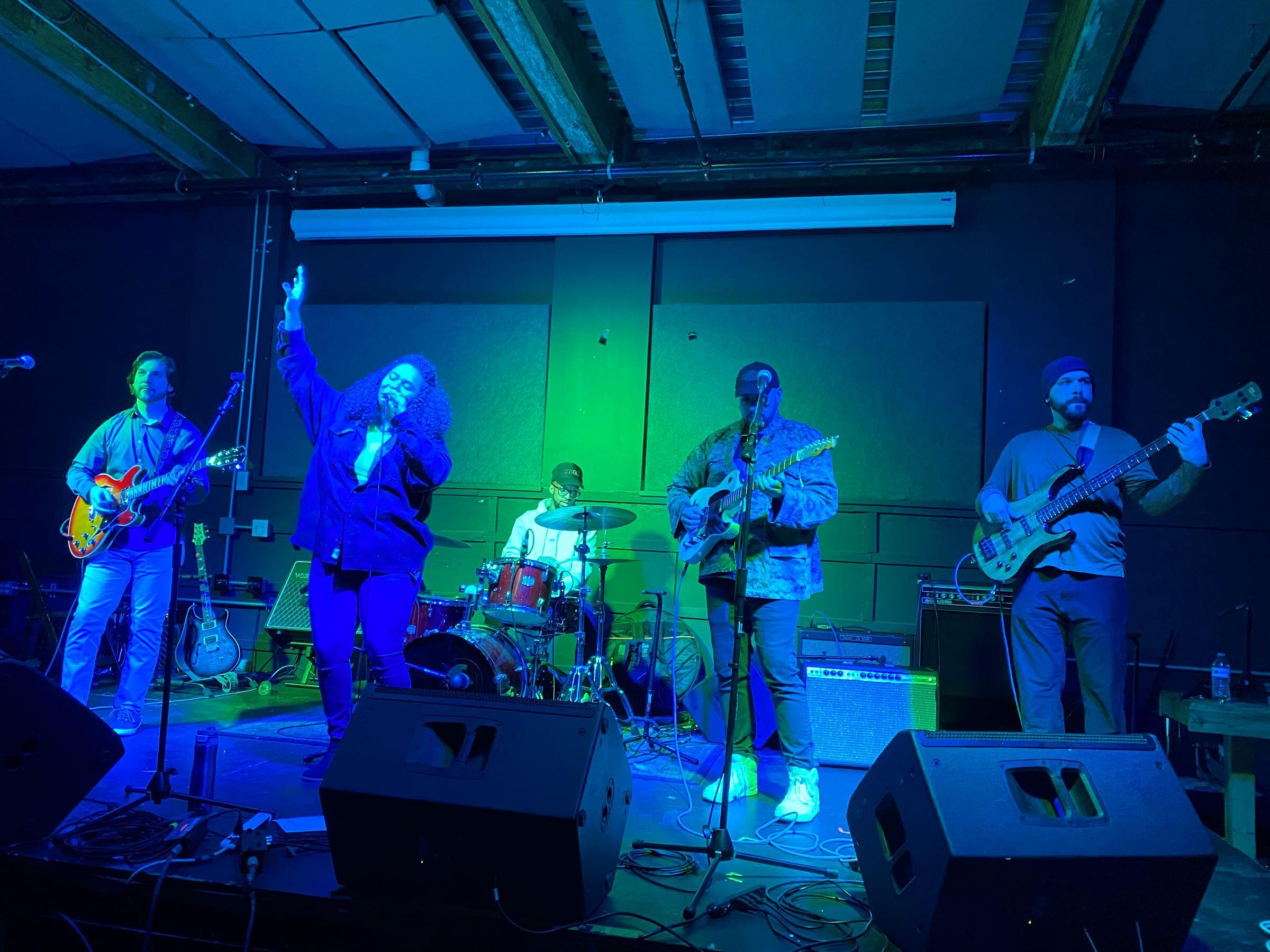 Three bands filled The State House with a multitude of sounds on Friday the 13th in another of Elm Underground's lucky streak of shows that have been making New Haven music fans happy for almost exactly one year now. 
Mike Voyce, who along with fellow audio engineer Hannah Jacobson makes up that booking team, was on site Friday running sound, discussing what the duo has been up to this past year, and what lies ahead in 2023.
"As sound people working live shows every day, seeing three to four bands [every day] for years, all of that gave us ideas as to who we could book together," said Voyce before the show, noting that the booking is a ​"team effort" between him and Jacobson. 
They began booking together back in 2019 with the KMA Festival. Since their first show under the Elm Underground moniker on Mar. 10 of last year, they have booked shows at both The State House and Cafe Nine, and have a monthly Super Smash Brothers Tournament show at State House the last Wednesday of every month that invites attendees to play the popular video game (or simply watch others do so) to a live improvised score. It's been a blast thus far, according to Voyce. 
"Usually, 50 to 60 percent of the attendees play, but some just watch," he said. 
They even had their first sold out show, headlined by Mandela, last Friday. Future shows include a hard rock/metal show on Feb. 9, their one-year anniversary show on Mar. 10, and possibly even an Elm Underground Festival.
"We just want to keep growing," said Voyce. 
On Friday three bands were there to share the love and the music, beginning with Connecticut's own Audio Jane. Sarah Pech on vocals and guitar, Kevin Lamkins on guitar, Nate Harris on bass, and Mike Ciunci on drums announced that they were ​"from up north" and introduced Lamkins as their new guitarist. New songs were debuted as well, including ​"The Mark," ​"The Beach," and Charmer, with the band leaning into their well known and loved atmospheric sound that layers heavy rhythms and just the right amount of reverb with lyrics of love found and lost and dreams built and broken. By the time they were done the audience was buzzing and ready for the rest of the night. 
When I spoke to Katy Hellman of The Burning Sun before the show to get the names of the band members and which instruments they played, she said it wasn't that simple, because they often switched around what they were doing. 
"You'll see," she added with a smile. 
Once onstage she began the show with introductions:
"We're The Burning Sun, and we're here from Vermont," she said. ​"We love Audio Jane," she added, noting that they had played with them three months earlier. ​"We're so grateful to be here. Thank you to Mike for putting it together." 
The band began with Hellman on vocals and guitar, Bo Malcolm on bass, and Steven LeBel on drums, with the three trading off instruments three times during their seven-song set. 
"We have an album out that doesn't feature these songs but we will mix them soon," Hellman told the audience, who leaned right in and enjoyed the ethereal and mystical sounds that felt like they could be the soundtrack to a video game — one that finds the player on an adventure deep in the dark woods or in lands far beyond this world. 
The final band of the night, Fernanda and the Ephemeral (more commonly known as FaTE), began with vocalist Fernanda Franco announcing ​"it's time." 
What time was it exactly? Time to groove to the sounds of this well-loved New Haven-based band that melds R&B, soul, and straight up rock ​'n' roll that makes you want to move and shake and raise your hands in the air in praise. Alex Patrie and Zack Rosenberg on guitar and vocals, Jeff Moro on bass, and Isaac Monts on drums created a sound that melded with Franco's voice to lift everyone's spirits even higher. 
They covered Todd Rundgren's ​"Hello It's Me" and TLC's ​"Waterfalls," original favorites such as ​"Smoke and Mirrors"and ​"Nothing Lasts" (a song that Franco asked the audience to join in on if they knew the words), as well as new music such as the song ​"You." All the while Franco encouraged the audience to dive in and feel it all deeply. 
"Let's just keep doing this," she said. ​"This is intimate, this is us."
And before the final song, she reached out once again to the cheering crowd. 
"You guys are amazing," she said. ​"Go forth and fill the world with your song. Love yourself. Individualism is beautiful. Be yourself."
She then began pointing to as many people as she could. ​"Love you, love you, love you," she said. ​"Love everybody."
The feeling was mutual.