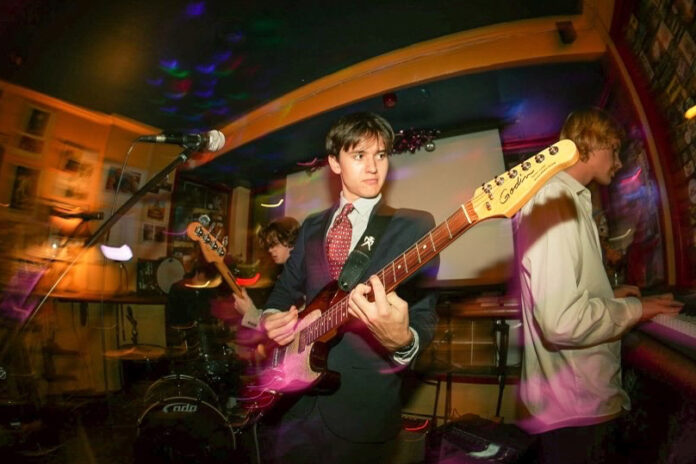 Bringing their high energy and musical riffs, Carleton student bands Noise Hotel and Monostrat are heading to the Rainbow Bistro stage Jan. 20. They will be opening for local indie-rock band Class of '91, and aim to put on a show that invigorates the Ottawa music scene.
Noise Hotel drummer Boshko Maric*, guitarist Eric Montpool and bassist Christian Strong are more than just bandmates—they are also friends and roommates.
Through their endless banter and shared playlists, these third-year Carleton students said their closeness binds their music together. 
"We come from different musical backgrounds, and it keeps it interesting," Strong said. "Together, we're making something that hasn't necessarily been done in this exact way before. None of us enjoy following formulas."
The members of Noise Hotel said their experiences as students also shape their creativity.
"Being in history and minoring in music, I have the opportunity to learn about a lot of stories," Montpool said. "As a music writer, it helps me to think of stories and different ways I can tell them."
Members of Noise Hotel first met Monostrat members on Halloween during a 3 a.m. trip to McDonald's. Nearly three months later, they are excited to share the stage for the first time.
"I massively respect [Monostrat] as musicians," Montpool said. 
Monostrat, a psychedelic rock and disco group composed of Alec Bell on keyboard, Alex Lemaire on bass and Nim Wemigwans on drums, also said student bands present unique dynamics.
"Balancing schoolwork and practices has been a challenge, especially during exam season," Lemaire, a history student at Carleton, said. "For the most part, it's been a wild ride. You learn a lot playing live music and getting to know cool people who share the same interest."
Last summer, Monostrat first performed with Class of '91, with of vocalist Ian Ferguson, guitarist Brock Sarault, bassist Fred Pantalone Jr. and drummer Steve Clifford. 
School and music are shared identities between all three bands performing on Friday. Class of '91's Ferguson and Sarault are high school friends, while Ferguson and Clifford are Carleton alumni.
After being introduced to the Rainbow Bistro's booker, Class of '91 organized the lineup for Friday's performance. 
"We reached out to Monostrat to see if they were available for the date that Rainbow gave us, and the stars lined up there," Ferguson said. "It was Monostrat's recommendation that we reach out to [Noise Hotel]. I hear that they put on a pretty solid performance so I'm super excited to have them on the bill."
The members of Noise Hotel said Friday's performance would be special for those in attendance.
"You can expect a mix of original songs and covers [and] audience interaction," Montpool teased. "Specifically for this show, we're going for a faster-paced kinda rocking set."
Monostrat is also releasing a "new wave, almost disco," single titled "Kalopsia" that same day, which they will perform live for the first time.
For all three bands, Friday's performance is about sustaining and celebrating the unique sense of community within the local music scene.
"When it comes to the live music scene here in Ottawa, it's pretty much a family,"  Wemigwans said.
"It's this very reciprocal relationship," Strong added. "We've been so lucky with the amount of support we've had over the past year." 
Noise Hotel and Monostrat are set to open the Jan. 20 concert at 8 p.m. Tickets are available online.
*Boshko Maric has contributed to the Charlatan.
---
Featured image by Serena Yang.