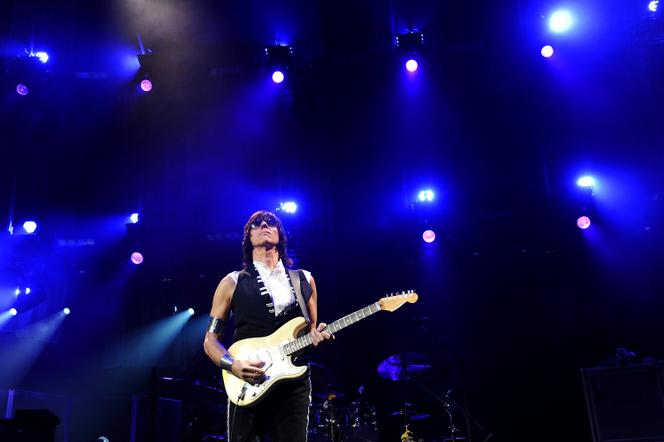 During a career that began in the early 1960s, he explored many styles: blues, jazz-rock, rock'n'roll, hard-rock, electronic music and pop. He even worked with a symphony ensemble. The British virtuoso guitarist Jeff Beck died on Tuesday, January 10, at the age of 78. A statement from his family, released shortly before midnight on January 11, said the musician had contracted bacterial meningitis, which could not be treated. During a 2001 interview, Jeff Beck told Le Monde about his varied musical journey: "I've always looked forward, record after record, concert after concert, tour after tour."
His skillful use of certain effects (distortion, wah-wah pedal and modifying pitch with a vibrato mechanism) and his dexterity with techniques, such as touching the strings by modulations and sliding effects, have often been highlighted. A highly-talented technician, he also developed a strong lyricism in his playing. Although he used several types of guitars, he was mainly faithful to the Fender Stratocaster, and in the late 1980s designed a model bearing his name, which was marketed in 1991. Several other Jeff Beck Signature Stratocasters followed.
Born on June 24, 1944, in Wallington, south of London, Beck first learned to play the piano, but he was drawn to the electric guitar from an early age, the guitars he heard on the radio or on blues and rock'n'roll records. After dabbling with art studies and a few odd jobs, in 1962, he joined the band fronted by Screaming Lord Sutch, who appeared on stage in a coffin and used props such as skulls and knives. Then Beck was in several rock and rhythm and blues bands before being invited, in March 1965, to replace Eric Clapton in The Yardbirds.
The band, led by singer and harmonica player Keith Relf, was then mostly known for its blues covers and had its first success with the song "For Your Love" (which had more of a pop sound) when Clapton was a member. Beck would stay in the band until the end of November 1966. During this period he played on songs such as "Shapes of Things," "Over Under Sideways Down," "Jeff's Boogie" and "Happenings Ten Years Time Ago," on which Jimmy Page, who was soon to replace Beck, also played.
An early version of 'Superstition'
In January 1967, the first Jeff Beck Group was formed, with singer Rod Stewart, guitarist (and occasional bassist) Ron Wood and keyboard player Nicky Hopkins. Several bassists and drummers would join this core group, which recorded two albums: Truth, released in July 1968, includes "Beck's Bolero," (recorded in May 1966 by Beck, Page and The Who drummer Keith Moon), which would become one of Beck's concert classics. The second album was Beck-Ola, in June 1969. While the first album still shows the influence of The Yardbirds, with elements of blues, Beck-Ola had more of a hard-rock sound, a genre still in its infancy. Shortly after the release of Beck-Ola, Stewart and Wood left the band to form The Faces. In December, Beck had a serious car accident. He had a passion for fast cars that would never leave him.
In April 1971, having recovered, he formed his second Jeff Beck Group, with singer and guitarist Bobby Tench, keyboard player Max Middleton, bassist Clive Chaman and drummer Cozy Powell. Their first album Rough and Ready, released in October, was almost entirely composed by Beck and mixed funk, soul and rock sometimes in a psychedelic mood. The following one, simply entitled Jeff Beck Group (1972), had more of a soul sound, with jazz elements (brought by Middleton). It was recorded in Memphis, Tennessee, and produced by Steve Crooper. In both cases, Beck worked wonders.
After touring the United States in the summer of 1972, Beck formed the trio Beck, Bogert & Appice (BBA) with bassist Tim Bogert and drummer Carmine Appice, whom he had met several times in previous years. This supergroup, which clearly had more of a rock sound and in which Bogert and Appice shared the singing, gave us an eponymously titled studio album, released in April 1973, mostly marked by covers. These included Don Nix's "Sweet Sweet Surrender" and Curtis Mayfield's "I'm So Proud." It also featured a version of Stevie Wonder's "Superstition." The BBA version was recorded before Wonder's. A live album recorded in Japan, and sold only for the Japanese market, was released in October 1973. Sessions for another studio album began in early 1974, but in the spring, Beck decided to end the trio.
'There is a physical connection to the music'
Beck then entered his jazz-rock phase, first with the 1975 album Blow By Blow, which would be his biggest commercial success. It was produced by the fifth Beatle, George Martin, and with the participation of Max Middleton on keyboard. Among the most successful songs were "You Know What I Mean" and "Scatterbrain," both co-written by Beck and Middleton, and "Cause We've Ended As Lovers" by Stevie Wonder. The following album, 1976's Wired, accentuated the jazz-rock virtuosity (like on "Led Boots" and "Play With Me"), still with Middleton as well as keyboard player Jan Hammer and drummer Narada Michael Walden, both coming from John McLaughlin's Mahavishnu Orchestra. The album also featured a superb version of Charles Mingus' "Goodbye Pork Pie Hat," which Beck would play regularly in concert. Less interesting was 1980's There and Back, also with Hammer. It also had some guitar feats ("El Becko" and "Space Boogie") and was the beginning of Beck's collaboration with keyboard player Tony Hymas.
He was still touring regularly (his discography includes several live albums, like Official Bootleg USA'06), but Beck spaced out the release of his studio albums. Flash, in 1985, summarized his 20 years in music, with the participation of Rod Stewart, Carmine Appice and Jan Hammer. Guitar Shop, from 1989, was a return to the trio format, this time with Tony Hymas and the drummer Terry Bozzio, who had started out with Frank Zappa. Technically quite impressive, the album was awarded the Grammy for Best Rock Instrumental Performance.
In 1993, Jeff Beck evoked the rock of his origins and his first musical musings with Crazy Legs, a collection of covers of songs performed by Gene Vincent. It was an opportunity for Beck to pay tribute to Vincent's guitarist, Cliff Gallup. Then Who Else! in 1999 was a foray into programming and techno, further explored with You Had It Coming in 2000, in which Beck combined drum'n'bass and hardcore techno rhythms with precise and cutting guitar parts. When the record was released, he explained his approach to us: "What interests me is the power of these rhythmic parts, which are really very rock'n'roll. We dance, we sweat. There is a physical relationship to the music, which becomes a platform for the guitar playing. You shouldn't play too many notes, you shouldn't make a demonstration because you lose this energy. I had the opportunity, in other contexts, to show that I could play fast, could play everything. So here, I focus on the most effective, instinctive expressions."
Jeff, from 2003, was messier, in our opinion. It was with 2010's Emotion and Commotion that he delivered his most ambitious album. It included contributions from a symphony orchestra and adaptations of classical pieces (including Puccini's Nessun Dorma) and standards (including "Over The Rainbow"). Keyboard player Jason Rebello also contributed, as did bassist Tal Wilkenfeld and drummer Vinnie Colaiuta, another former Zappa collaborator. They formed one of Beck's best backing bands in the late 2000s. In 2016, Loud Hailer returned to rock, without being really compelling. And in 2022, 18 was released, a collection of covers in which he collaborated with Johnny Depp. Critics and audiences were not hugely enthusiastic about this record.
In dates
June 24, 1944 Born in Wallington, South London
March 1965 Joins the band The Yardbirds
January 1967 First Jeff Beck Group with singer Rod Stewart
June 1969 Album Beck-Ola
1973-1974 Trio with bassist Tim Bogert and drummer Carmine Appice
1975 Success of the album Blow By Blow
1989 Album Guitar Shop with keyboardist Tony Hymas and drummer Terry Bozzio
2000 Album You Had It Coming with a techno sound
We are interested in your experience using the site.
2010 Album Emotion and Commotion with a symphony orchestra
January 10, 2023 Death at the age of 78
Source link