[ad_1]
Police say the driver involved in last night's fatal incident in Melbourne's CBD is in hospital and is not in a fit state to be interviewed.
Chaos broke out in the CBD when a Toyota struck three pedestrians at a tram stop near the busy intersection of Bourke Street and Swanston Street at about 6:20pm, authorities said.
The vehicle then hit another car — a Hyundai — killing the 76-year-old driver and injuring his passenger.
Police arrested the Toyota driver, a 26-year-old man from Melton West, who was taken to Royal Melbourne Hospital.
He has not yet been charged and has been deemed unfit to be interviewed.
Chief Commissioner Shane Patton said the Toyota driver sat on the bonnet of his vehicle "making some utterings and ravings" before he was apprehended.
"He has no prior criminal history. He's in fact a 'clean skin', a term used by Victoria Police for someone whose not had police involvement," he said.
"The only record we have of that male is that he's had a report of missing persons before."
Chief Commissioner Patton said police had ruled out any connection to terrorism at this time.
Loading…
Investigators said the car, a Toyota, then continued along Bourke Street, colliding with two other vehicles near the Russell Street intersection. 
A 76-year-old Brunswick man who was driving one of the vehicles, a Hyundai, died at the scene.
The driver of a Mazda that was struck — a 37-year-old man from Diggers Rest — suffered minor injuries.
His passenger, a 30-year-old man from Diggers Rest, was also taken to hospital with minor injuries.
Three pedestrians — a 26-year-old man from South Yarra, a 23-year-old woman from China and a 35-year-old woman from Docklands — were also injured.
Two of those people are in a stable condition in hospital and one is in a serious condition.
Look back at how ABC readers and other Australians responded to this live moment.
Wondering what this is? Join us next time we're live and be part of the discussion.
Witnesses describe 'chaos' as incident unfolded
Jean Paul Rosette, who owns a hairdressing salon on Russell Place saw the vehicle hit a pedestrian.
"The car then basically floored it, I'm talking like a hundred miles an hour on the wrong side of the street up Bourke Street," he told ABC Radio Melbourne.
"I had to sort of get myself out of the way because I was crossing the road there and it didn't look like he was going to stop.
"I think I was in shock actually. I was almost like paralysed."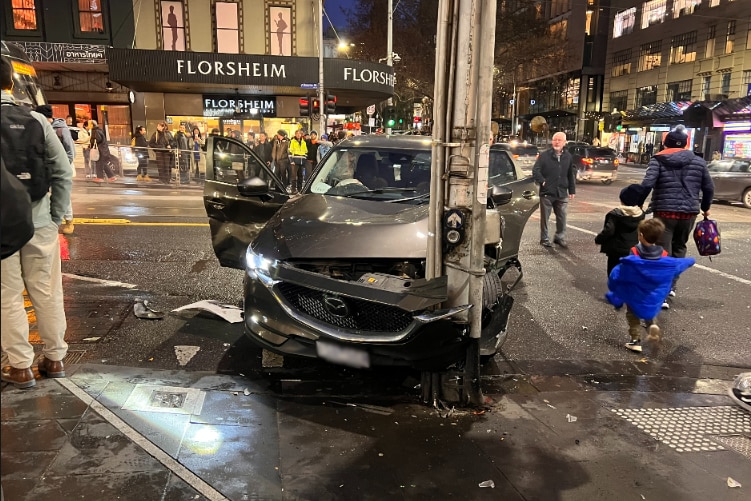 Witness, Harry Fernandes was in a nearby bar when he heard the crash outside.
"Everybody thinks it's a safe place and you never know what's going to happen to you until it does," he said.
Another witness, Alexander Chantarengsi said he was "shocked" by what he saw in the aftermath of the crash.
"Chaos all over the place. Not something you expect, especially in Melbourne, so it was pretty full on," he said.
"Friday night is usually buzzing and to see that sort of stuff, there are no words."
CBD a safe place, Daniel Andrews says
Premier Daniel Andrews thanked those who responded at the scene and offered his condolences to those affected.
"This is a terrible incident and we are all deeply grateful to all of those who played a part in comforting others and of course coming to the aid of those who were caught up in it," he said.
He said Melbourne's CBD was a safe place to be and pointed to the $50 million worth of safety improvements made in the wake of the 2017 Bourke Street incident.
"An enormous amount of work was done following 2017, as was absolutely appropriate. But there is not an engineering treatment that we are advised about or aware of, or can I think, practical, that would change this outcome," he said.
Loading…
Mr Andrews said he would wait for the Victorian Coroner to investigate last night's incident before considering any further safety measures in the CBD.
"Government always stands ready to implement any findings that the coroner hands down," he said.
"But it is not readily apparent to us that the engineering works that we did need to be extended."
Victorian Opposition Leader John Pesutto offered his condolences to the family and friends of the man who died last night.
"This latest tragedy, like those before it, must do nothing to diminish our city as a place for all people, young and old alike, to congregate safely and share in the excitement of its boundless energy across all of life's endeavours, from sport, the arts, culture, commerce and so much else," he said in a statement.
"In this, we must be unyielding."
Loading…
Melbourne Lord Mayor Sally Capp said her thoughts were with the families of those caught up in the incident.
"We thank those who stepped in without a moment of hesitation to provide assistance during this emergency," she said.
"The City of Melbourne is working with and supporting Victoria Police and other relevant authorities as investigations continue."
All of the affected streets have since reopened and trams are operating along Bourke Street.
[ad_2]
Source link