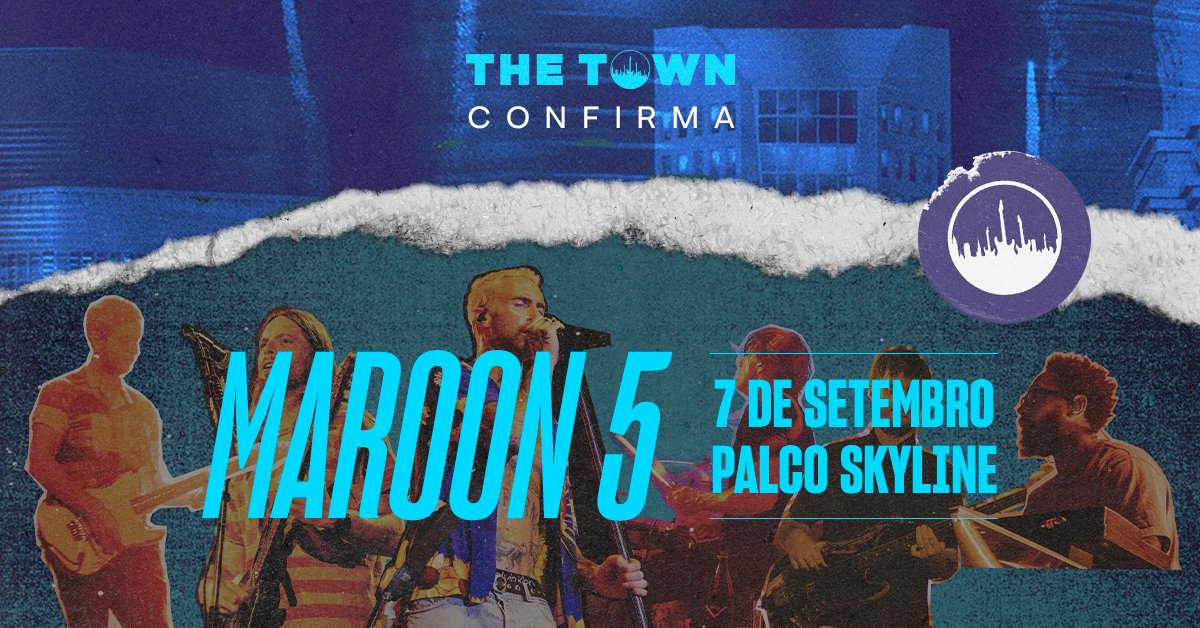 Maroon 5 is a band that knows how to rock! With their latest album fresh off the presses, they have been taking the world by storm. Fans all over the globe have been eagerly awaiting their tours, and with good reason! Recently, they made their way to the vibrant Brazilian city of São Paulo to perform live at the world-renowned venue, The Town in Autódromo de Interlagos. The excitement was palpable as fans from all over the world descended on São Paulo to catch their favorite band in action.

From the moment they took the stage, Maroon 5 had the audience eating out of their hands. The fans were thrilled to hear their favorite hits, and the band did not disappoint! Starting with their classic number 'This Love', everyone was up on their feet, dancing and singing along to the infectious beats. The energy in the air was electric as Maroon 5 belted out hit after hit, including Stereo Hearts, One More Night, Animals, Love Somebody, Lucky Strike, and Sunday Morning, which had an extended intro featuring Adam Levine shouting at the audience before launching into the crowd-favorite tune.

And that was just the start! Maroon 5 continued to delight their fans with a string of amazing songs, including Payphone, What Lovers Do, Makes Me Wonder, Heavy, Maps, Memories, Don't Wanna Know, and Girls Like You, all of which had the crowd going wild. The band closed out the night with an epic encore, featuring an acoustic version of Won't Go Home Without You and She Will Be Loved, as well as the hit song Sugar, bringing the show to a close on a high note.

For fans who were not lucky enough to be in São Paulo that night, the Set List is an extraordinary reminder of the energy and excitement that Maroon 5 brings to each and every performance. With so many amazing songs and unforgettable moments, this was truly a night to remember!
Outside Lands, Golden Gate Park Polo Field, San Francisco, CA – August 12, 2023
Live At The Orion Amphitheater In Huntsville, AL – August 25th 2023
Release Date: September 8, 2023
---
Label: Rhino
In August 1977, Fleetwood Mac Descended Upon Southern California To Deliver Three Unforgettable Performances At The Forum In Los Angeles. Rumours Live Captures The Electric Atmosphere Of Their Opening Night.
Release Date: September 1, 2023
---
Label: Nether Lands
Dan Fogelberg's Live At Carnegie Hall Is An Unearthed Treasure From 1979, Brought To Fruition And To Our Ears Thanks To The Hard Work Of His Wife, Jean.
Widely Considered One Of The Grateful Dead's Seminal Performances, RFK Stadium, Washington, DC – June 10, 1973 Belongs On The Shortlist Of Must-Hear Dead Concerts. The Allman Brothers Band's Dickey Betts And Butch Trucks Lent A Hand During The Encore.
Grateful Dead Dead Man's Party
Latest  Set List (from the Bottom to the Top):
 Grateful Dead – Encore: (I Can't Get No) Satisfaction
 Grateful Dead – Encore: U.S. Blues
 Grateful Dead – encore break
 Grateful Dead – 22 – Encore Break
 Grateful Dead – Dear Mr. Fantasy > Hey Jude Reprise
 Grateful Dead – Wang Dang Doodle ->
 Grateful Dead – Tuning / Funiculi Funicula
 Grateful Dead – Keep Your Day Job
 Grateful Dead – My Brother Esau
NPR News Now Report Airs FOUR (4) Times Daily!
"WooCommerce" Plugin is Not Activated!
In order to use this element, you need to install and activate this plugin.