[ad_1]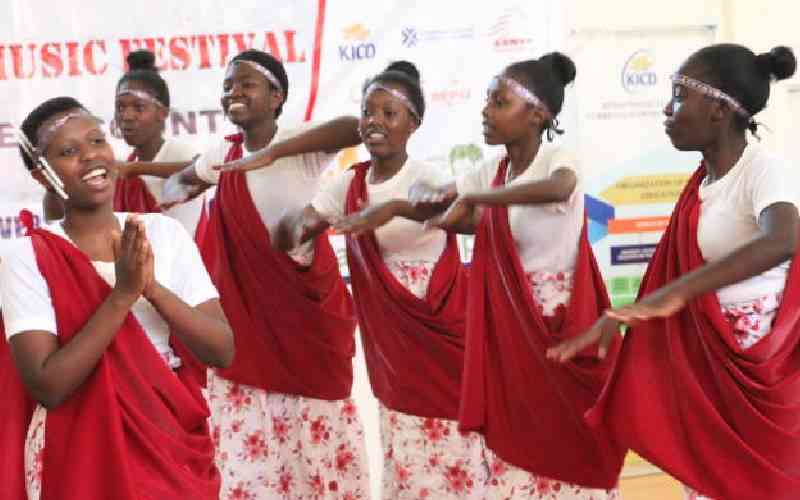 Winners at the 95th edition of the annual music festival are set to perform at a gala to be held at Nakuru High.
At least 600 classes were showcased during this year's school music festival.
A last-minute decision saw the venue of the gala changed from Nyeri to Nakuru in an unprecedented move.
No reason was provided by organisers nor State House for the sudden change of venue. Teachers, students and Kenya Music Festival officials had to hurriedly travel 160km down to the Rift Valley after the announcement.
Winners in the 11-day fete include Abigael Obiero of Aga Khan Academy Mombasa who was exceptional in her victory in three classes, including Alto solo, Soprano solo as well as Operatic solo renditions. 
"She has done very well, beyond our expectations and the future of this rising star is bright," said her teacher Philip Mbinji, the Director of Coast Chorus Music Academy.
Mbale High School won in highly contested Zilizopendwa from the Rest of Africa secular class, beating arch-rivals Koelel High, Senende Secondary, Pumwani High and Makueni Girls. 
Moi Girls Nairobi Secondary School emerged tops in the brand new category Zilizovuma with adaptation and arrangement of Sauti Soul number. 
They beat a strong effort from Chavakali High, Ugenya High, Agoro Sare School among others.
"We are proud of the girls and we salute them for showing that girls can do it at the very top," said Moi Nairobi Girls Chief Principal Margaret Njaagah.
Apostolic Carmel Girls from Buruburu proved they were a hard nut to crack with a flawless performance of a Buganda Cultural Dance performed to entertain the King Kabaka at the Palace by winning the Rest of Africa category of the African Traditional dances class.
They beat Ortum Mixed school who presented a Karamojong dance performed during happy occasions, with Mount Carmel coming third with a Baganda dance. Kayole South came fourth with an Igbo traditional dance from Nigeria.
Apostolic Carmel Girls had a double, winning the Oriental dance class having performed a Bhangra dance from North India which is usually performed near the temple or the village square.
Vaishna Penumucho and Harshini Pabbaraju from Ravirona Natya Nike tan School won decisively in the respective Indian Classical Indian solo dances.
Stay informed. Subscribe to our newsletter
Sacho High School won the violin class with impressive skills from Abigael Moraa directed by Milton Kidake.
Pangani Girls won in the Arabic Choral verse class as well as picking accolades in the German Choral verse.
Karanda Primary School gracefully picked the gold after impressing with a Dodo dance perfumed by young women beating such greats as Sega Girls.
Benmore Girls beat a galaxy of talents from Kamothai Girls, Highbridge School, Mai Mahiu School and Ribe High among others in a set piece Homework Stew.
Kasimbiji Primary won the Mijikenda folk dance class with Borstol School from Shimo la Tewa and Magogoni Primary coming second and third. 
AIC Lokichogio beat Kanamkemer Primary and Kakuma Mixed in the Turkana and Pokot folk songs with past winners Pokotum coming fourth.
[ad_2]
Source link