[ad_1]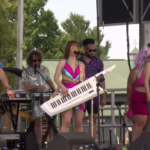 LEXINGTON, Ky (WTVQ)- A popular festival returned to Lexington this weekend.
The tenth annual Crave Food and Music Festival is happening at Masterson Station Park.
"We started this festival day one," says Mamadou Savane of Sav's Chill Gourmet Ice Cream.
Savane has been a part of the festival since the very beginning. The former Lexington restaurant owner served up some tasty treats to help concert goers beat the heat.
"Mint chocolate chip, vanilla, cookie dough, hot banana. I'm the only one that makes that," says Savane.
Sav is one of 40 food vendors taking part this year at Masterson Station Park bringing the community together to help wrap up the summer.
"This is really a way to showcase our local food vendors, local restaurants, local caterers. They've had a really tough past couple of years. And this is just a great way to come out and support them," says Saraya Brewer, the Music and Production Manager of the festival.
Brewer says she expects around 15,000  people to make their way to the festival this weekend not just for the food, but for the music as well- with around a dozen bands taking the stage.
"So many amazing local bands. I've always been a huge proponent of our music scene. So it's really fun to be able to get them all on a stage and introduce our communities to some music that they might not have heard about," says Brewer.
The festival includes food network stars, demonstrations- bourbon tasting- and a car show. And a place for vendors like Sav  to showcase everything they have to offer.
"It's great, it's a wonderful community event. You have a chance to come and sample different foods here and there. And then after food you can come have dessert."
Gates open Sunday from 11 a.m.. to 7 p.m.


[ad_2]
Source link