[ad_1]
A fire that tore through a five-storey building taken over for illegal housing has killed 74 people including 12 children in central Johannesburg, according to South African authorities.
The blaze – one of the deadliest worldwide in recent years – left 61 people injured.
The bodies of some of those who died were found at a security gate that was closed, preventing people from escaping the blaze, an official said.
Thembalethu Mpahlaza, head of forensics services in Johannesburg's Gauteng province, said that 74 bodies were recovered – 24 female, 40 male and ten "burnt beyond recognition".
"We are having 12 children involved also in this tragedy," he told a news conference.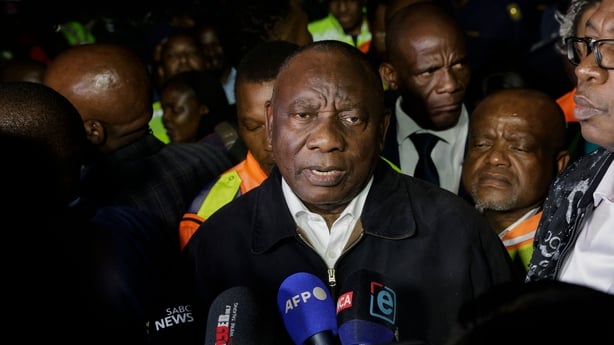 City authorities said the municipality-owned building in a deprived, crime-ridden area had been turned into illegal housing after being abandoned.
Most of those living there were foreigners, one resident said.
"I'm grateful to be alive, there was a lot of us running, trying to find the fire exit and a lot of people eventually died because of the smoke inhalation," said Kenny Bupe, a survivor caught up in the blaze while visiting a friend.
The 28-year-old said he was part of a group that managed to break open a locked fire escape gate and run to safety, while others "jumped out" of windows to flee the flames.
Blankets and sheets used for escape hung from the burned-out windows.
Witnesses spoke of parents throwing their babies out into the street, hoping to save them.
"There were people catching the babies and there were also mattresses laid out for (them)," said Mac Katlego, 25, who lives nearby.
Rescuers combed the building floor by floor as firefighters damped down hotspots after putting out the flames.
"This is a great tragedy, felt by families whose loved ones perished in this terrible manner," South African President Cyril Ramaphosa said at an event in the southern city of Gqeberha.
"Our hearts go out to every person who is affected by this disaster."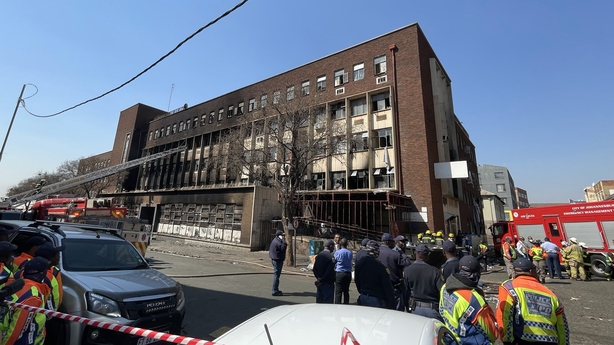 The cause of the blaze was not immediately clear.
Domestic fires are fairly common in South Africa, plagued by chronic power outages, where many live in poverty.
Authorities said candles used for lighting inside the structure or stoves and other heating devices were a likely cause.
The building, which has been evacuated, is located in what used to be the business district of South Africa's economic hub and was used as an informal settlement by people squatting there illegally, authorities said.
"Inside the building itself there was a (security) gate which was closed so people couldn't get out," said Mgcini Tshwaku, a member of the city's mayoral committee in charge of public safety.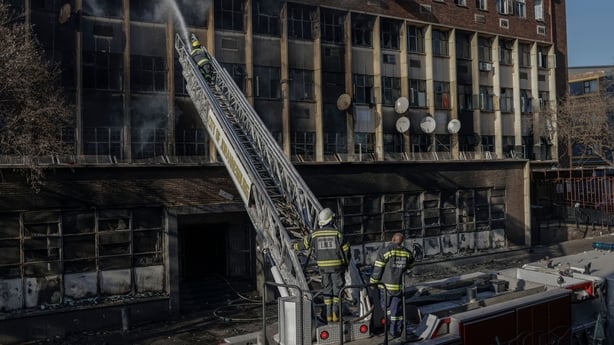 Fire trucks and ambulances were parked outside the building, which was cordoned off by police as a crowd of onlookers gathered.
Authorities estimated that more than "80 shacks" were set up inside.
"The fire spread very quickly, affecting different levels of the building, because of the combustible materials used," said Emergency Management Services spokesman Robert Mulaudzi.
Illegal occupation of disused buildings in Johannesburg's city centre is widespread, with many said to be under the control of criminal syndicates.
The building was raided by police in 2019, when 140 foreign nationals were arrested for illegally collecting rent, Johannesburg city manager Floyd Brink said.
"It was so difficult for us to get out," said Nobuhle Zwane, who managed to escape with her two children aged two and 13, adding that some corridors were blocked by beds. "We did inhale quite a lot of smoke."
Residents said that each of the five floors had a security gate that was kept locked at night to keep out police and possible intruders.
South Africa, with the continent's most industrialised economy, attracts millions of migrants, many undocumented, from other African nations.
[ad_2]
Source link