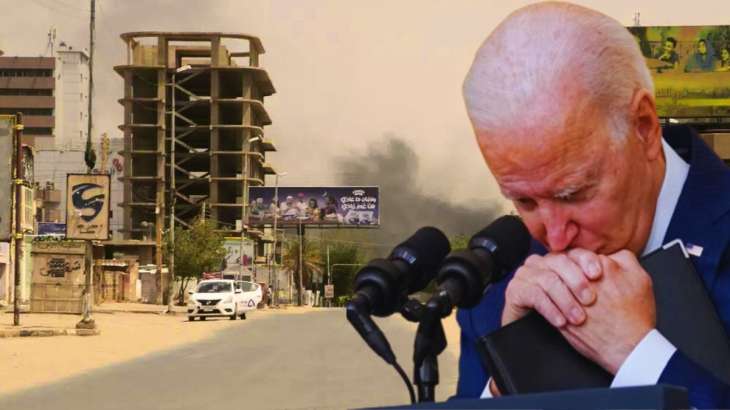 Sudan crisis: President Joe Biden said that the US military conducted a successful evacuation of US embassy personnel in Sudan. His statement came on Saturday late at night when he called for an end to the "unconscionable" violence.
Praising the US military for swift evacuation, Biden said all the staff was evacuated from the US mission in Khartoum.
The staffers were airlifted to an undisclosed location in Ethiopia, according to two U.S. officials familiar with the mission. U.S. troops carried out the mission as fighting between two armed Sudanese rivals —which has left more than 400 dead, put the nation at risk of collapse and could have consequences far beyond its borders—moved into a second week.
I am grateful: Biden
"I am proud of the extraordinary commitment of our Embassy staff, who performed their duties with courage and professionalism and embodied America's friendship and connection with the people of Sudan," Biden said in a statement. "I am grateful for the unmatched skill of our service members who successfully brought them to safety."
Biden also thanked Djibouti, Ethiopia, and Saudi Arabia, which he said played a critical role in "the success of our operation."
According to the World Health Organization, fighting has killed more than 400 people since erupting on April 15 between two factions whose leaders are vying for control over the country. The violence has included an unprovoked attack on an American diplomatic convoy and numerous incidents in which foreign diplomats and aid workers were killed, injured or assaulted.
Sudanese military wants RSF to surrender
The Sudanese military a day earlier ruled out negotiations with the RSF, saying it would only accept its surrender, and on Friday it claimed to be clearing RSF positions from around Khartoum. The military appeared to have the upper hand in the fighting, with its monopoly on air power, but it was impossible to confirm its claims of advances.
The two generals vying for control over the vast African nation — Burhan and his rival, RSF chief Mohammed Hamdan Dagalo — have sought to portray themselves as supporters of democracy. In 2019, they turned against long-time autocrat Omar al-Bashir and pushed him out of power amid a popular uprising against his rule.
But since then, they have failed to implement agreements under which they would hand over power. Their forces crushed pro-democracy protests, and in 2021 they jointly carried out a coup that removed a transitional government and entrenched them as Sudan's most powerful leaders.
Both forces have a long history of human rights abuses
The RSF was born out of the Janjaweed militias, which were accused of atrocities in crushing a rebellion in Sudan's western Darfur region in the early 2000s.
The current explosion of violence between them came after Burhan and Dagalo fell out over a recent internationally brokered deal with democracy activists that was meant to incorporate the RSF into the military and eventually lead to civilian rule. The fighting continued to frustrate efforts by nations to evacuate their nationals from Sudan.
(With inputs from AP)
Also Read: Sudan conflict: Army agrees to evacuate foreign citizens, diplomats