A 14-foot great hammerhead shark washed up dead on the shores of an Alabama beach before researchers took her body for a necropsy. Researchers later discovered that the marine creature was pregnant with over three dozen shark pups at the time of her death.
Beachgoers spotted the shark at Orange Beach on Thursday and pulled the hammerhead ashore, according to ABC News 4.
Witnesses then contacted the City of Orange Beach Coastal Resources, which preserves and restores local beaches, to remove the creature from the area, according to AL. Officials put the creature on ice and removed it from the breach for researchers.
"Our staff quickly arrived and were able to get it off of the beach. While it was very sad that it passed, we were excited about the rare opportunity of seeing a Great hammerhead in such good condition," Coastal Resources said in an update Saturday. "We immediately started contacting various agencies to see who had availability to come gather data from this unique specimen."
A team from the Mississippi State University Marine Fisheries Ecology performed a necropsy to determine the cause of the shark's death.
It was eventually found that the hammerhead was pregnant with 40 shark pups. The team is still working to determine what led to the creature's unexpected passing away.
"Though the cause of death has not yet been determined, the researchers did discover that the shark was pregnant with 40 shark pups! While it is sad, it is very rare to find a large pregnant female, and the data collected will be tremendously helpful in learning about Great Hammerhead fecundity," Coastal Resources wrote on Facebook.
"We are very thankful that our staff was able to get the shark off of the beach, protected from the elements, and iced down within a few short hours of the initial call," the statement added. "This was definitely an experience that we won't forget, and we are grateful to have played a small role in this unique case."
Coastal Resources' post garnered 6.8k likes and saw 4.7k comments.
"I was there with two of my friends when she washed up. We'll be keeping up with your post to see what you learn about her," read one comment. Another user said, "Even though it's sad, what a great opportunity that can give great data for the preservation of these amazing animals' future."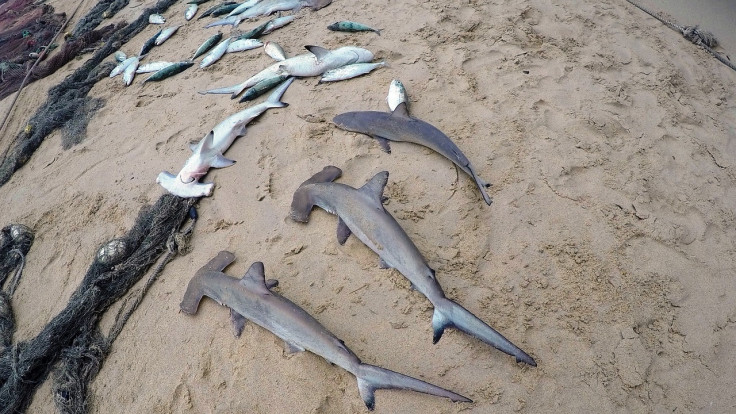 Source link